New 2024 Case IH Tractors
Case IH -

Case IH is nodding to its past while focusing on the future with a 2024 lineup delivering more purposeful design, technology and performance on everything from electric power to versatile subcompacts to the company's most powerful tractor ever - the Steiger 715 Quadtrac. It's truly the "Year of the Tractor" for Case IH.

The Steiger 715 Quadtrac, already open for orders, delivers built-in power and speed to cover more ground in less time. The 715 horsepower-rated, 778 peak horsepower engine1 sets a new bar for performance, but it's also nimble enough for any challenge.

"The Steiger 715 Quadtrac is not just our most powerful tractor to date - it delivers power with purpose. It puts more power to the ground to do more in a day, while being nimble enough to navigate a single lane of traffic," says Tom Curley, Case IH Global Product Manager for Steiger. "With the addition of the 715, the Steiger line is positioned as one of Case IH's most flexible tractor offerings."

With great power comes greater efficiency. This newest Steiger model introduces the new heavy-duty Quadtrac undercarriage that offers increased traction to keep up with the engine's horsepower. But it also provides the maneuverability needed to go anywhere, with better visibility and roadability to improve the driving experience in and out of the field. Plus, with a new hood design, redesigned exhaust and LED lighting, the sight lines are a thing of beauty.

The Farm Progress Show 2023 marks the first time farmers can take this kind of horsepower to the field. At the Ride and Drive, attendees will get firsthand experience with these purposeful innovations:
An engine delivering 15% more power to meet the demands of higher-acreage operations, helping pull wider implements more efficiently. The Steiger 715 is equipped with the FPT Industrial brand new C16 TST, the twin-stage-turbine engine developed in collaboration with Case IH specifically for this tractor.
This Quadtrac's heavy duty undercarriage and longer track design improves traction and flotation to reduce soil compaction.
Increased fuel capacity of up to 520 gal means more precious time in the field, while visibility is increased thanks to 27% more LED lighting and a redesigned exhaust.
The Steiger 715 Quadtrac gives operators better data visibility, connectivity and automation to do any job more efficiently, no matter who is in the cab. AFS AccuGuide sets the stage for pass-to-pass accuracy with customizable, repeatable accuracy levels to match any operation, while AFS AccuTurn enables hands-free steering and automatic, repeatable end-row turns. Dual Pro 1200 displays provide access to more real-time data across the fleet, so operations can make faster, more informed decisions.
More solutions for more people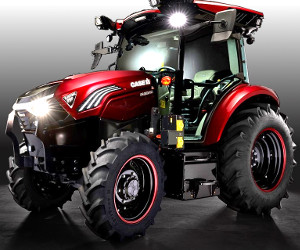 In Farmall's 100th year, the brand is also giving a glimpse of what's in store for the next century of Farmall. The Farm Progress Show marks the unveiling of the Farmall 75C Electric, Case IH's smartest electric tractor, the reboot of the Farmall M, featuring classic decals and modern smart utility features, and the launch of the Farmall 25SC Subcompact Tractor.
Farmall 75C Electric Tractor: The Farmall 75C Electric offers diesel-like performance with an average 4-hour run time and fast recharging, plus up lower operating costs. Coupled with safe, easy-to-use automated tech features, this quiet, comfortable, zero-emission utility tractor offers maximum versatility for jobs like maintaining vineyards, clearing an airfield, or managing a small herd. Unveiling at the Farm Progress Show, the Farmall 75C Electric will be available for limited orders starting Q1 2024.
Farmall M Series Tractor: As the original all-around utility tractor, the Farmall M series offers the same can-do reliability you expect, with a stronger, fuel-efficient engine and more comfortable operating environment. Perfect for field and livestock use, the Farmall M unveiling means the return of a true legend.
Farmall 25SC Subcompact Tractor: This subcompact model provides rural lifestylers the all-purpose utility of a larger tractor in a simple, more intuitive design. Delivering efficiency you can plan your day around, the tractor includes both rear and mid-PTO to mow grass, plow snow, or complete any other tasks without borrowing equipment from the neighbors.
"With fuel costs rising and ever-changing regulations, tractor operators need smarter, more efficient power to get the job done," says Joe Miller, Case IH Global Product Marketing Manager for Tractors. "We know there are parts of the country looking toward electric to maintain vineyards, clear airfields or manage small herds of livestock and our electric tractor will meet these needs. For 2024, the Farmall electric tractor will be released in specific markets."
'The Year of the Tractor'
In all, Case IH is debuting seven new or redesigned tractor models at the Farm Progress Show, offering a broad range of solutions for operations of all scales. That includes the Optum 340, which allows drivers to safely and efficiently navigate their livestock or dairy operation - and even manage crops - with a quieter, more comfortable operating environment. And, introducing the Farmall 25A which delivers a Tier 4 B/Final compliant engine offering improved power performance, increased efficiency and cleaner emissions.
"We ground our R&D process with extensive customer input, so we can ensure our tractors deliver the power, tech and performance farmers need to meet today's demands," says Miller. "We're helping farmers do more, in less time, ultimately helping improve an operation's ROI."