New Holland T7.300 Tractor
New Holland -

A new power-to-weight ratio and performance standard is being set by New Holland Agriculture with the North America introduction of the T7.300 Long Wheelbase (LWB) tractor with PLM Intelligence. As the most powerful and compact tractor in its power bracket, it delivers more power while maintaining the dimensions and maneuverability of other T7 models. Complementing this performance, the new model utilizes the superior operator environment of the Horizon Ultra cab and a range of inter-cab technology and features to maximize productivity, efficiency and uptime.

"Our customers told us they wanted a tractor with more power without the downside of bigger frames and more weight, and they didn't want to sacrifice maneuverability," said Oscar Baroncelli, Head of Tractors New Holland. "We took up their challenge and developed the new T7.300 Long Wheelbase: it delivers greater engine power with larger tires, with no increase at all in overall dimension - it's a design feature we call Ultimate Performance Density."

Ultimate performance power starts under the hood
The tractor features an enhanced FPT Industrial NEF 6 engine that delivers 280 HP maximum power for draft work and 300 HP for PTO and haulage jobs. It also includes the new Electronic Variable Geometry Turbo, which ensures high torque and fuel efficiency at lower RPMs. Contributing to overall efficiency is an upgraded version of the Auto Command transmission function, the best-in-class driveline for tractive effort. Overall, the new T7.300 LWB tractor helps operators reduce stops by increasing fuel capacity by 18% and decreasing service intervals by 50% compared to some competitors.

The capabilities of the T7.300 LWB tractor continue to go above and beyond with increased axle functions and higher weight-holding features. The increased traction and soil performance of 2.05-meter/6.7-foot-tall tires, along with dimension continuity from previous T7 models, enables the T7.300 LWB tractor to deliver ultimate performance on any terrain.

Smart innovations take the T7.300 LWB to the next level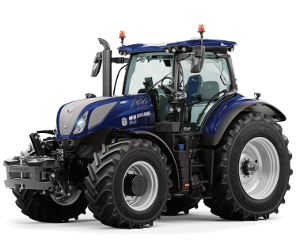 The T7.300 LWB tractor provides more processing power, superior implement connectivity and in-cab convenience to meet customer needs. The new model comes equipped with a variety of smart technology features, including Tractor Implement Management (TIM), a system that allows two-way communication between the tractor and implements for improved operator control. For example, when using the Integrated Large Square Baler Control the interaction with this tractor, cab movement will be reduced by 15% and fuel consumption is reduced by 12%, while maintaining a consistent PTO speed and reducing input costs.
Additionally, the T7.300 LWB tractor sports the New Holland's PLM Intelligence system, which integrates data technology to connect operators and farmers to the field to optimize yield potential. This includes the:
IntelliView monitor that gives operators a complete view of the fieldwork ahead.
IntelliSteer autosteering and IntelliTurn automated end-of-row turning are added features to increase productivity.
In addition to advanced connectivity, customers can connect to PLM products through MyPLM Connect to view real-time information from the field, while dealers can provide remote diagnostic support through the monitor to help the operator get back to work.
Superior comfort and ergonomics in the quietest cab on the market
Comfort and smooth riding are pillars of the new T7.300 LWB tractor. This tractor leverages the superior comfort of the Horizon Ultra cab, the quietest cab on the market with 66 decibels, and new Comfort Ride suspension, the active electro-hydraulics system that mitigates cab movement from the chassis with a "skyhook" control logic. The result is a smooth, comfortable and quiet ride, which combined with the supreme forward visibility and the ergonomic controls, make the T7.300 a new benchmark for heavy front loader works.
All T7 models have a reputation for providing high-level hydraulic performance, this T7.300 is no different. It utilizes new features like high flow, electro-hydraulic remotes that have fully configurable controls, and a new hydraulic circuit with an optimized design to reduce connections by 30% and feature remote test ports for fast fault finding. Customers will also be able to manage heavy implements with confidence with the new self-centering hydraulic stabilizers with adjustable lock point. The customizable advanced joystick controls up to 6 remote valves, providing excellent operator ergonomics.