New Holland Updated T4 Series Tractors
New Holland -

New Holland Agriculture is further consolidating its undisputed leadership of the specialty tractor sector with the introduction of the revolutionary VisionView cab on the T4 F/N/V Series and a new, more powerful engine and compact hood on the TK4 Series.

This series has already started to earn international praise, as the T4.120F won Best Specialized Tractor at the Tractor of the Year 2023 Awards. The coveted title, assigned by a jury of independent journalists specializing in agricultural mechanization, recognizes the best tractor in the market.

"This prestigious award recognizes once again New Holland's supremacy as the undisputed leader in the specialty tractor segment," said Carlo Lambro, New Holland Brand President. "We have remained at the forefront of this sector for seven decades by constantly innovating, upgrading and extending our uniquely wide offering to meet the most specialized requirements of our customers. This latest "Best of Specialized" title is testament to the many years of work and dedication in this important segment."

T4 F/N/V VisionView cab: The best in comfort, visibility and safety
The revolutionary VisionView cab introduces the comfort of an open field tractor in the narrow T4 F/N/V Series, with a spacious environment and flat deck for all types of operators. The exclusive design of the front window, combined with the lowest and most compact hood on the market that is covering and protecting all the after-treatment systems, provides a unique style and best-in-class visibility. The one-piece side window and four-pillar design further improve visibility to the sides and rear, overcoming the challenge of increasing roominess in a constrain space.

"New Holland has remained at the forefront of the specialty tractor segment for seven decades, earning its position as the undisputed leader by constantly innovating and upgrading our products," said Oscar Baroncelli, tractor product management global leader for New Holland Agriculture. "Over the years, we have developed our uniquely wide offering to meet our customers' most specialized requirements and anticipating their evolving needs. The new T4 F/N/V VisionView cab raises the bar once again by completely redesigning the products around customer needs."

The VisionView cab is also the quietest in the segment, with a noise level as low as 71 dB(A). This adds to the operator's comfort and safety and is available with the full benefits of the exclusive Blue Cab4 with Category 2 and 4 double filtration system. The infotainment and human-machine interface have also been upgraded with InfoView digital instrument cluster to manage all machine controls and settings.

T4 F/N/V blends power and performance in compact frame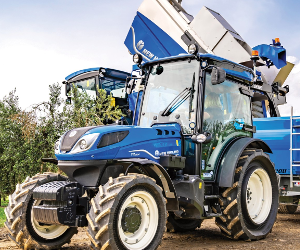 The T4 F/N/V VisionView cab delivers a powerful performance with emissions 40 times lower than its predecessor. The F5C FPT engine achieves the highest torque, 518Nm, at the lowest RPM, 1,300, as well as a torque backup of up to 40%. Besides the power, these features provide the most flexible solution to the customers for all their applications and needs. Following customer requirements, hydraulic circuits have been redesigned, delivering with just 1 pump up to 80L/min. for new linkages and hydraulic remotes.
The T4 series tractors are the perfect machines for contractors and small to medium orchards and vineyards with high-value crops who look for high performance, comfort and reliability in the best tractor sized for specialty applications. Thanks to the VisionView cab and to all the other technical features, this tractor is a Finalist of TOTY 2023 in the category Best Specialized.
TK4 Series: upgraded to deliver more power
The TK4 series crawler tractors have been updated with new styling to match the latest wheeled specialty tractors. New Holland's crawlers have a long history behind them, beginning in 1932 and they play an important part in the company's heritage. This new addition confirms the company's willingness to continue its investments in this sector and consolidate its already undisputed leadership.
The open field models have been upgraded with new, more powerful Stage V engines with maximum power ranging from 85 to 109 HP and an after-treatment system with EGR, DOC and SCRoF. The narrowest models feature a 75 HP Stage V engine and after-treatment system with EGR, DOC and DPF, but does not require DEF. On all models, the compact design of the engine and after-treatment system fit under the hood, ensuring excellent visibility and maneuverability.
The new specifications are added to a vehicle that has always contained elements and exclusivity, which still make it the best-selling crawler tractor. Some of these exclusive elements include a Factory fitted cab for Crawler (introduced in 2009) or the SmartTrax rubber track system that is interchangeable with steel tracks in less than 1 hour, which grants no need to be loaded on a trailer for transportation, as well as reduces vibrations and increases comfort. Or, the Steering-O-Matic Plus: steer and clutch system with one control to steer, brake, stop and re-start without a clutch pedal. Finally, the Lift-O-Matic Plus system: An award-winning mechanical hydraulic control system that allows operators to raise or lower the rear linkage when making a headland turn, while maintaining position and draft settings. When pushing/pulling the lever, if released, the implement immediately stops at the height corresponding to the actual implement position. A gentle push or pull of this convenient lever allows for minor adjustments.