Kubota launches electric tractor
Kubota -

Kubota Corporation is pleased to announce that Kubota will be the first Japanese manufacturer to release electric tractors. Kubota offers a limited number of compact electric tractors LXe-261 (hereinafter "LXe-261") in Europe, which is actively striving toward carbon neutrality. The LXe-261 will be made available for a long-term rental service for local municipalities in Europe starting in April 2023.

Kubota advocates carbon neutrality by 2050 in the Environmental Vision that it announced in 2021. As an initiative to reduce CO2 product emission, Kubota will advance development of electric, hybrid, fuel-cell, and other drives in an effort to decarbonize power sources.

Municipalities and other public bodies in Europe have been broadly using compact Kubota tractors for park maintenance and other green space management. Regions throughout Europe are tightening regulations, such as the ban announced for all diesel vehicles in Paris, France by 2024. This has driven local municipalities and other public bodies to find alternatives, such as electric vehicles (EVs) and fuel-cell vehicles (FCVs). In light of these trends, Kubota has been researching and developing electric tractors while carrying out field trials in Paris.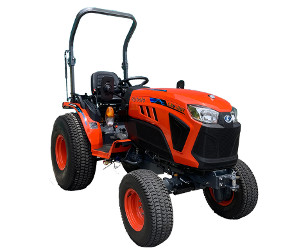 A major challenge in developing electric tractors has been ensuring hours of continuous operation. The LXe-261 is equipped with a large-capacity battery that can provide rapid one hour charging and an average three to four hours of continuous operation. Rapid charging over lunch for afternoon use after exhausting the batteries during morning work responds to the usage needs of local customers discovered through the LXe-261 tractor trials.
The LXe-261 also realizes the output necessary for mowing, hauling, and other green space management work in parks and other natural reserves. It even offers almost the same compact size as tractors with diesel engines.
Kubota will not only receive customer feedback, learn the issues faced during actual use, and gain other insights through the long-term LXe-261 rental service, but it will also advance development of eco-friendly products and further expand its product lineup.