More Power and Performance on 7030 Series Tractors From John Deere
Deere & Company -

John Deere introduces four new models of 7030 Series Large-Frame Tractors ranging from 140- to 180-PTO hp. These row crop tractors offer more power, option flexibility, and productivity than the models they replace. Here's the new lineup:
Model
Engine
PTO HP
ENGINE-HP
97/68 EC (ISO)
7630
6.8L (414 cu.in.)
140
175
7730
6.8L (414 cu.in.)
152
190
7830
6.8L (414 cu.in.)
165
205
7930
6.8L (414 cu.in.)
180
220
"We've met with customer focus groups and conducted extensive field tests in the development of these tractors," says Ron Schwertner, division manager, marketing, John Deere Waterloo Works. "Customers will have more choices to configure the exact tractor they need for their operation."
The 7030 Series Large-Frame Tractors feature the responsive, cleaner-burning 6.8L PowerTech Plus engine with a rated speed of 2100 rpm. These engines deliver a 40 percent torque rise and 10 percent power bulge to muscle through tough field conditions.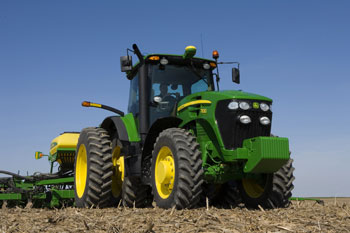 "To get more power and efficiency, our engineers used the latest engine technology including a Variable Geometry Turbocharger (VGT), cooled Exhaust Gas Recirculation (EGR), and four valves per cylinder head," explains Schwertner. "This technology allows us to meet cleaner emissions standards, while achieving the same or better fuel efficiency, and more power and performance from these field-proven engines."
Some operations demand more power to maintain speed and productivity. Examples include transporting heavy manure tanks and large grain carts or working through tough spots in the field with pull-type forage harvesters and other rear PTO driven implements. The new, optional Intelligent Power Management provides up to 30 additional engine horsepower for use in transport or non-stationary rear PTO operations. The Intelligent Power Management system ensures consistent performance in transport and rear PTO operations.
"There are three transmission options available with the new 7030 Series Large-Frame Tractors," says Schwertner. "The 16-speed, 19-mph PowrQuad PLUS transmission is base equipment for all models. This dependable transmission features clutchless, push-button shifting of gears in each range.
"For those who want more automatic performance for ease of operation or faster transport speeds, we now offer the AutoQuad PLUS or Infinitely Variable Transmission (IVT) at a 25 mph or 31 mph transport speed. These transmissions are designed to improve operator efficiency and to increase transport speed to get more done in less time."
The AutoQuad PLUS transmission allows operators to manually shift gears, or program the tractor to automatically shift speeds within each range using the CommandCenter. With "auto" mode activated, whenever the engine load increases and engine rpm decreases significantly, the transmission will automatically downshift until the correct gear is found to maintain optimal engine rpm and ground speed. This ensures that the tractor is consistently operating in the most efficient gear to save fuel and time.
"Our premium transmission, the IVT, has a fully integrated electronic control system and provides unmatched ease of operation at all tractor speeds," emphasizes Schwertner.
"With the IVT, speeds can be adjusted infinitely from a creeper speed as slow as 165 feet per hour (0.03 mph) up to maximum transport speed without clutching. Also, the IVT is now available with full right hand controls or a left hand reverser and right hand speed selector. Depending on the operation, IVT will save the operator significant time and fuel and will maximize the overall performance of the tractor. What's more, exclusive features such as PowerZero and AutoClutch, for clutchless stops, enhance usability for the operator.
Styling and lighting has been refined on the 7030 Series Tractors. A new hood, cab roof, decals, convenient controls and a spacious operator station add to the overall comfort and value for the operator working long hours in the field.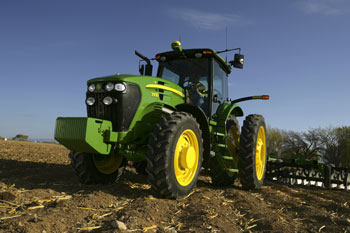 "The lights are supported by a new 200-amp alternator for increased electrical capacity," says Schwertner. "Controls and switches in the cab are backlit for exceptional visibility. An optional FieldVision HID lighting package is available for unsurpassed lighting performance at night. This package includes additional roof lighting and high-low road lights integrated in the front grille screen."
Hydraulic performance has improved on the 7030 Series Tractors. A 45-cc displacement pump with a 32-gpm flow rate is standard equipment. For more demanding hydraulic applications, a new 63-cc displacement pump provides 45-gpm flow. The higher capacity pump will be useful in many planting/seeding operations. The tractor will raise the implements quickly and turn at the headlands with ease.
"Electrohydraulic selective control valves (SCVs) are standard equipment with IVT. In the past only manual control levers for SCVs were offered on the PowrQuad PLUS and AutoQuad PLUS transmissions," explains Schwertner. "However, operators like the push-button setup of the hydraulics system (time and flow rates) using the TouchSet hydraulics panel, only available with EHSCVs. Mechanical SCVs with traditional lever controls are included with the manually shiftable, "quad" transmissions for economically-minded customers, but EHSCVs will now be available on all transmissions for more convenient operation of tractor implements."
Other features include a standard Category 3/3N three-point-hitch which provides a 10,050-lb. hitch lift capacity. A new hydraulic center link makes implement hook-up easier, allows control of fore/aft leveling on-the-go, and reduces transport height of the implement. For a wider range of implement compatibility, a 10,000-lb. tongue weight capacity drawbar is available. A high capacity loader or a front hitch and front PTO may be factory or field installed.
"With the increased power, enhanced option flexibility, and improved overall performance, customers will truly appreciate the new 7030 Series Large-Frame Tractors," concludes Schwertner. "We'll begin shipping the new machines in September 2006; look for them on display on dealership lots and at the major fall farm shows."