Massey 3700 Series Tractors
Andrew Tellijohn -

The new specialist MF 3700 Series of tractors introduced by Massey Ferguson is designed to provide high performance, superb fuel efficiency, comfort and versatility for vineyard, fruit, orchard and hill farmers.

It offers ranges dedicated to each specialist farming category and includes a brand new Wide Fruit model, with a wider chassis for greater stability that also is ideal for hillside vineyards and livestock farms with sloping fields.

It's pegged as an improvement over its predecessor, the MF 3600 Xtra. It comes in five ranges:
V - Vineyard - for use in traditional narrow vineyards, now benefiting from a top speed of 40 kph
S - Special - for more open vineyards with a slightly wider chassis and a more spacious cab
F - Fruit - for use in more extensive vineyards and fruit orchards; a more substantial tractor with a wider front axle and more spacious cab
GE - Ground Effect - for use under trees, in polytunnels and in canopied vineyards, this version benefits from a wider front axle for even greater stability
WF - Wide Fruit - a wider tractor for use in orchards, also ideal for alpine farms, hillside vineyards and livestock operations. It offers a low center of gravity and greater stability on slopes with a wider front and rear axle and a more spacious cab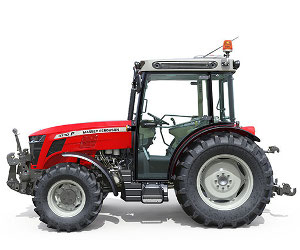 Massey Ferguson unveiled the new series at Agritechnica in Hannover, Germany in November.
"Farmers whose high value crops and challenging terrain present additional demands will enjoy even higher levels of specification, which can be precisely tailored to meet their individual requirements, says Campbell Scott, director of marketing service for Massey Ferguson Europe and Middle East. "In addition, they will benefit from the extensive knowhow of our specialist engineers who have worked extremely hard on this impressive new range."
The MF 3700 Series tractors are equipped for optimum performance, with powerful, four-cylinder, stage 3B new generation engines, hydraulic flow increased to a maximum of 120l/min and the option for a fully integrated factory-fitted front linage, PTO and front loader frame, allowing for the use of a wider range of specialist implements.
Low operating costs, the company says, are offered by fuel efficient engines, extended 600-hour service intervals, a larger fuel tank and an improved hood access for refueling.
Operator comfort is bolstered, even in high pressure planting and harvesting periods, with a quiet, spacious cab and easy-to-use controls, automated functions and easy access. And Massey Ferguson improved forward visibility by lowering the bonnet height offered by fitting the emissions control system neatly at the side of the bonnet.