Challenger MT700 Upgrades
Andrew Tellijohn -

The next-generation Challenger MT700 Series track tractors include improved track tractor performance, ride comfort, operating efficiency and on-board intelligence aimed at maximizing uptime, productivity and productivity for agribusiness users.

"Today's producers demand more than just power and flotation from their track tractors," says Josh Keeney, tactical marketing manager for AGCO, Challenger's parent company. "Challenger continues to deliver production-enhancing features and on-board technology that helps producers better manage their farming businesses and increase profitability to provide what we call Intelligent Farming."

The improved tractor comes with the AccuEngineering platform and a redesigned MobilTrac System and is integrated with the latest suite of Fuse Technologies, the company announced.

It also includes a new engine, transmission, undercarriage and hydraulics. Three available models range 380 HP to 431 HP are powered by AGCO Power 9.8-liter diesel engines equipped with concentric air systems. The AccuDrive powertrain features the Accu-VT continuously variable transmission, combined with the state-of-the-art operating technology to produce a high-torque, low-speed approach, AGCO announced.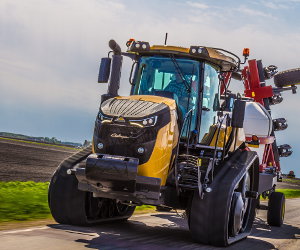 Systems are designed to run at lower engine rpm, which is expected to lower fuel costs and reduce engine wear. And upgraded hydraulic systems offer greater flow at lower engine rpm and the capabilities to meet the demands of the latest planters and implements. Now instead of running at full throttle to meet the hydraulic needs, officials say the AccuDrive system allows full output at 1700 rpm, producing a quieter working environment and less engine wear.
Passenger comfort has been improved with the MT700 Series becoming the first two-track machine with three stages of suspension and oscillating midwheels that precisely contour to the ground over terraces and uneven surfaces.
"Operators are going to notice a significant difference in the ride comfort," Keeney says, adding that handling at higher road speeds also has been improved.
The MobilTrac System also has been redesigned by moving the hardbar farther forward, providing a longer wheelbase and more stability. The steel hardbar acts as the front axle, attaching to the forward point of the roller frame and providing up to 11 degrees of oscillation, which should improve ride and minimize compaction. The pivoting carrier attached to the roller frame is now designed with the Tri-Bogle suspension. Midwheels provide unmatched suspension and track-to-ground contact, improving performance and comfort, the company says.
In cab technology has improved, as well. The challenger MT700 tractors feature a 10.4-inch touch-screen Accu-Terminal with a smartphone feel that allows operators to easily manage all tractor settings and adjustments plus monitor compatible implements, camera functions, field documentation and other applications.
The MT700 tractors debuted at the Farm Progress Show in Decatur, Ill. at the end of August.