Claas Axion 900 Tractors
Andrew Tellijohn -

Claas has introduced a new generation of its Axion 900 large tractor series that offers more powerful engines, with a low-speed concept, optimized CMATIC transmission control, CEBIS terminal with touch display and CMOTION multifunction control lever.

The new Axion 900 models include the six-cylinder FPT Cursor 9 engine with 8.7-liter cubic capacity. It meets the Stage IV emissions standard requirements and has a new, variable geometry turbo as standard equipment. The optimum charge-air pressure results, according to the company, in 70 percent of maximum torque being available even when idling.

The tractors range in horsepower from 325 to 445 and the tractors transfer their full power from a standing start and at all forward speeds, without a boost, Claas officials say. The first generation of Axion 900 tractors was launched in 2011 and became known for tractive power, a matched engine and transmission, ease of operation and high fuel efficiency.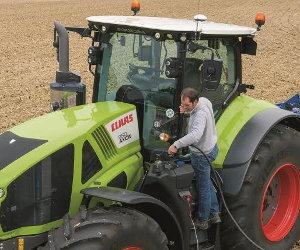 The low-speed concept incorporated in the Axion 900 engine allows for the development of 18 percent more torque than was previously available at lower speeds. This reduces fuel consumption and guarantees optimum driving performances for all field and transport applications, they say.
And in ECO PTO mode, up to 95 percent of the maximum engine output is transferred to the PTO shaft, despite the reduced engine speed, allowing heavy implements to be operated at a lower engine speed, the German company adds.
The new Axion 900 series tractors are equipped as standard with continuously variable ZF Terramatic transmission, previously used in the Axion 800. It has been adapted to the higher output of these tractors and are expected feature outstanding stability and power transmission. The continuously variable CLAAS CMATIC transmission control system uses a new generation of software that incorporates many customer requirements identified under real-world conditions, the company announced in a statement.
And for the first time, the tractors come in two versions – CIS+ and CEBIS. Like the CEBIS (Claas electronic on-board information system), the CIS+ (Claas Information System) option aims to be easy to use with less complexity.
And all the Axion 900 tractors have load-sensing hydraulics with an output of 150 or 22-0 liters per minute and release levers for all hydraulic couplings at the rear. Both the CIS+ and CEBIS versions operate electronically with rocker switches in the armrest and the ELECTROPILOT four-way control lever. Other conveniences include the function buttons on the armrest and the multifunction control lever that can be configured for any of the spool valves, reducing the driver's workload.
A universal tow hitch support allows for the use of six different traction devices. LED lighting packages are optionally available as well.
The Axion 900 tractors will be available for purchase at the end of 2017.