Kubota M6S 111 Utility Tractor
Andrew Tellijohn -

Kubota Tractor Corp. has added the M6S-111 diesel utility tractor to its M-Series. The tractor's power, performance and economy make it an ideal solution for cattle producers who want a single tractor for a full range of cattle and hay operations, loader work, mowing and more, the company says.

It is designed for the small- to mid-sized user but includes some big tractor features, such as Kubota Swing Shift, which delivers multiple speeds controlled by a single lever.

The tractor is offered in the four-wheel drive M6S-111SHDC and M6S-111SDSC, as well as the two-wheel drive M6S-111SHC. It replaces the M1085 in this series.

"This new tractor fits perfectly into Kubota's M-Series line of tractors," says Kent Brown, senior project manager for ag tractors. "It is flexible enough for any job in the hayfield or pasture."

High-performance hydraulics allow the M6S-111 to accept implements requiring multiple valves.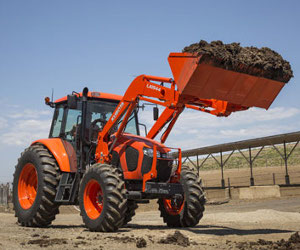 It features a V-3800-Tier IV diesel engine. Rated at 114 engine horsepower and 95 PTO horsepower, it can be performance-matched with a complete line of Kubota disc mowers, hay tedders, rakes and BV-Series balers.
Constant RPM management memory minimizes repetitive actions, adding performance efficiency in areas such as front loader work. And the engine features a common rail fuel system that has intercooler and exhaust gas recirculation, while employing a diesel particulate filter and a selective catalytic reduction for minimized emissions.
The M6S-111's standard transmission, in the 111SHDC and 111SHC versions is the Swing Shift 16F x 16R, which actuates the electric over hydraulic range shift to provide eight speed options through a single lever control. Eight additional speeds are activated with the auxiliary range lever, and a dealer-installed creep option adds eight slower speeds to the 16F x 16R for a total 24F x 24R.
The Swing Shift Plus, which is standard on the F32 x R32 transmission in the 111SDSC, makes 16 speeds available with a single lever control and the optional creeper adds 16 addition speeds, for a 48F x 48R.