John Deere Expands 6R Series in Australia
Andrew Tellijohn -

John Deere has added two new six-cylinder tractor models to complete its 6R series. The 230 horsepower 6230R and the 250 horsepower 6250R tractors are designed to meet the needs of contractors and arable farmers. With engine boost of 50 horsepower with Intelligent Power Management, the 6250R provides up to 300 horsepower when required.

Both tractors are powered by a 6.8-liter PowerTech PSS engine with dual turbochargers and advanced DPF and SCR technology, which responds quickly to changing loads while consuming less fuel and meeting Final Tier 4 emission standards.

The AutoPowr transmission is designed for efficiency, with 100 percent mechanical power available at just over 2 mph for heavy draft operations, just under 7 mph for light draft work, about 14 mph for heavy transport and just under 30 mph for light transport. Once running at maximum road speed, RPM automatically drops, resulting in lower fuel consumption, company officials say.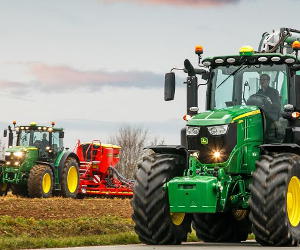 The 6230R and 6250R tractors come with all-new CommandPRO joystick, available as an optional extra, that can make the tractor more ergonomically sound. Tops peed can be reached with one push, and 11 programable buttons are available for hitch, PTO, SCVs, AutoTrac controls and more. The joystick can control the tractor going from top speed to zero with a push or pull, and lower speeds, from 0 to about 1.2 mph can be achieved with the creeper control function. Both the joystick and pedals can be operated at the same time.
A pressure and flow compensated hydraulic system is included, which also saves fuel. Up to six SCVs with individual pressure-relief levers have been grouped for easier access. Lift capabilities are nearly 23,000 pounds with rear hitch and 11,000 pounds at the front.
They offer better traction, with up to 10 percent more power applied to the ground through a new self-leveling TLS Plus Triple-Link Suspension system on the front axle. It automatically adjusts sensitivity and suspension rate, and synchronizes with hitch sensing, to compensate for power hop under heavy draft conditions.
And, John Deere officials say, the hydro-pneumatic cab suspension system offers more driving comfort and isolation from noise and vibration, for a high level of operator comfort.