Kioti CK10SE Cab Tractors
Andrew Tellijohn -

Kioti Tractor has added two special edition cab models to its CK10SE Series of tractors. The CK3510SE HC, at 29.4 horsepower, and the CK4010SE HC, at 31.9 horsepower, feature the same hydrostatic transmission and minimal vibration experience as the rest of the company's CK10 Series tractors with the benefits of a cab, officials say.

Both new tractors have a rear PTO of 540 revolutions per minute. The drive train operates with standard four-wheel drive and rear differential lock, powering through slipper and inclement conditions. And the hydraulic system features a Category I three-point hitch for various implement pairing capabilities.

Hydrostatic cruise control and link pedals, standard features of both, aim to reduce fuel consumption. They also offer rear dual remote valves with four ports, two spring and two detents. Air conditioning and heat allow operators to perform tasks comfortably year-round, the company says.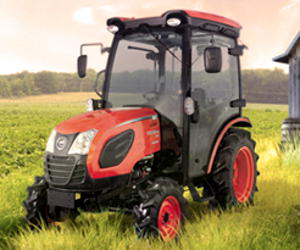 Optional purchases for the CK3510SE HC and the CK4010SE HC include 2000 RPM mid PTO kit. Additionally, the new cab models can be outfitted with the Kioti KL4020 Front End Loader, which delivers a maximum lift height of 98.4 inches and a lift capacity of 1,930 pounds. The Kioti KB 2475L Backhoe also is an available attachment.