New 5R Series Launched In Australian Market
Andrew Tellijohn -

The new 5R Series of tractors launched by John Deere in Australia were designed to meet the requirements and needs of small and medium-sized agricultural, dairy and livestock farms, as well as local governments.

The 5090R (90 horsepower), 5100R (100 hp), 5115R (115hp) and 5125R (125 hp) models are equipped with fuel efficient, Stage IIIB/Interim Tier 4 compliant 4.5-liter John Deere PowerTech PWX engines that are designed with 4-cylinder engines that deliver 10 hp extra for transport applications via their Transport Power Management system.

Customers can choose between three transmission options: entry level 16/16 CommandQuad manual, with four ranges and four PowerShift gears in each range, the 16/16 CommandQuad and the 32/16 Command8, with eight PowerShift gears and an ECO mode enabling a top speed of nearly 25 miles per hour at 1759 engine rpm.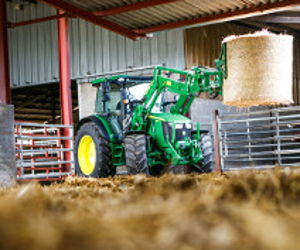 All the transmission options offer a fully automatic clutch, individual start-up gears, individually settable speeds, and an electric park lock. The premium level 32/16 Command9 also features an automatic shifting function as standard, while that option is available optionally on the 16/16 CommandQuad transmission.
The new 5R tractors have more than seven-foot wheelbase, while still maintaining a turning radius of about 12 feet, even when fitted with a loader. The tractors combine a one-piece curved frame design with a low center of gravity to facilitate front loader installation on the go, while still maintaining good maneuverability, according to the company.
The 5R Series tractors have a shipping weight of about 9,500 pounds. They can lift nearly 10,400 pounds or, optionally, up to about 11,700 pounds. And for comfort in rough terrain, John Deere has made available front axle suspension, with independent arms and infinite adjustment of +/- 45mm that allows complete shut-off, if required. There also is an optional mechanical cab suspension system, which uses adjustable shock absorbers to support the optional air-suspended seat.
Additionally, the company's 543R front loader offers automatic mast and implement latch, a 10 percent increase in lift capacity, higher breakout force and an increased roll-back angle. The 543R and 603R loaders are equipped with a choice of leveling options.
And for narrow row crops and other specialty crops and vineyards, the new 5RN Series tractors feature a minimum width of just under six feet, a narrow cab and mechanical front wheel drive.