New John Deere Z300 Zero-Turn Mowers
Andrew Tellijohn -

John Deere has added five new Z300 zero-turn mowers at under $3,500. The Z335M, Z345M, Z345R, Z355R and Z375R each mow well at fast speeds. And, the company says, homeowners will appreciate the step-up model additions to the ZTrak Z300 series, which features improved cut quality, easy-to-use ergonomic controls, enhanced engine performance and features aimed at upgrading comfort.

Each of the new Z300 mowers will include the Accel Deep mower deck, introduced in 2016. The mower decks will be available in 42-, 48-, and 54-inch cutting widths, and the decks will provide homeowners with better grass dispersion and improved cut quality at faster speeds.

The Accel Deep mower deck on the ZTrak Z300 models are compatible with the company's MulchControl kit, which allows operators to quickly switch between side discharge and mulching with the flip of a lever.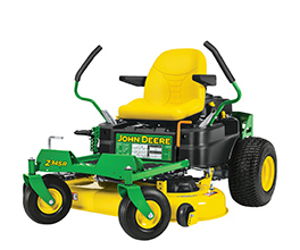 A wider tire option on some of the models provides a smoother ride and a foot-operated deck lift option allows for quick and efficient engagement of the deck without leaving the operator seat.
The ZTrak Z300 series also receives an upgrade in engine performance with horsepower ranging from 20HP on the Z335E to 25HP on the Z375R.
Comfort enhancements include a medium back seat that doesn't require a tool for seat adjustment and control levers with improved ergonomics. Company officials say customers will like the new mowers for the convenience and the price.
"Homeowners are attracted to the speed and overall performance of zero-turn radius mowers, but some perceive ZTRs as too expensive," says Kim Ridel, tactical marketing manager for John Deere. "New for 2017, we're introducing five new residential zero-turn models under $3,500 providing homeowners with the speed and performance they need, at the attractive price they want."