Kubota Introduces New Z400-Series Mower Line
Andrew Tellijohn -

Kubota Tractor Corp. this month introduced the Z400-Series zero-turn commercial mower line with three models. The Z411KW-48, Z421KW-54 and Z421KWT-60 all are powered by Kawasaki FS gasoline engines and are, respectively, available with 48-, 54- and 60-inch decks.

The new series aims to combine the performance and durability of commercial-grade components with a new, modern design and class leading speed.

"Landscape professionals have been asking Kubota for a 60-inch commercial mower with all the features and performance at a more attractive price, and the Z400-Series is our response to this market demand," said Tom Vachal, the company's senior turf product manager.

The mowers will fill the gap between Kubota's residential zero-turn Kommander series and the larger commercial Z700-Series.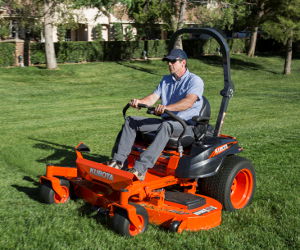 The Z400-Series uses Hydro-Gear's Commercial ZT3400 transmission to provide the optimum combination of speed and torque. The transmission is designed for ease of maintenance to minimize down time for landscape professionals. A 24 horsepower Kawasaki FS gasoline engine powers the Z421-KWT-60 and Z421KW-54 mowers, while a 22 horsepower Kawasaki FS engine powers the Z411KW-48. All three models have a 6.8-gallon fuel tank.
Large, low-profile tires help provide superior cutting performance through dense turf and across hilly terrain, the company says.
Each of the mowers in the Z400-Series is designed with a thick and durable tubular steel frame for strong and stable operation. Each model features a 10 gauge, five-inch deep, fully-welded deck for superior grass-cutting performance. And the Kubota K-Left deck height adjustment system allows for quick, easy cutting height changes with the turn of a dial and press of a petal.
The company unveiled its new mower line at the GIE+Expo in Louisville, Kentucky in October.