Kubota Announces New BX80 Series Tractors
Andrew Tellijohn -

Kubota Tractor Corp. this week introduced its new BX80-Series of sub-compact diesel tractors. The all-new BX80-Series includes four tractor models: The BX1880, BX2380, BX2680 and the BX23S, which includes a standard-equipped front loader and backhoe unit.

The company says the new series of tractors is easy to operate, versatile, intuitive and ideal for residential property owners.

"Kubota is the market leader in the sub-compact industry since we pioneered the category in 2000 with the introduction of our original BX-Series," says Robert Cockroft, sub-compact and compact tractor product manager. "We've taken this experience and existing customer feedback to enhance performance and ease-of-use with this exciting new BX80-Series."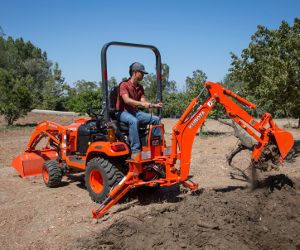 The BX1880, BX2380 and BX2680 are equipped with a rollover protection system, which fits through most standard seven-foot high garage door openings. They deliver 18-, 23- and 25.5 horsepower, respectively. The BX23S tractor-loader-backhoe has a 23-horsepower engine that gives the tractor reliability and superior torque, the company says. Kubota's powerful and efficient, liquid-cooled 3-cylinder diesel engines and four-wheel drive provide fuel-efficient traction.
The BX80-Series is compatible with easy-to-attach tools and implements, including the LA344 Swift-Tach loader for the BX 1880, BX2380 and BX2680. They can be attached or removed without the operator leaving the station.
A four-point hitch enables using accessories, such as blades, brooms and snow blowers beyond the several Land Pride implements, including rear snow blowers, that are attached using the standard Category 1 three-point hitch.
All four BX80 tractors include an easy-attach mid-mount mower, available with fine cut or standard cut deck.
And the BX23S includes Kubota's Swift-Tach system, which aims to provide unmatched ease in removing and attaching the front loader. The backhoe connect is removable without tools, including pins.
The BX80 tractors also include several comfort and ergonomic characteristics, including easy-to-read modern dash displays, a cubby hole with a 12-volt outlet for charging cell phones and a deluxe seat for a more comfortable ride.
Kubota introduced the new sub-compact tractors at its Annual Dealer Meeting in Grapevine, Texas, where its headquarters is in the process of being relocated.
"Whether it's mowing, landscaping or blowing snow, the do-it-all BX-Series makes outdoor chores enjoyable year-round - it's the perfect choice for first-time tractor buyers and is sure to be the sharpest looking tool in your garage," Cockroft adds.