Challenger Unveils MT400E Tractors
Andrew Tellijohn -

Challenger has introduced five models in the new MT400E Series of tractors. Each MT400E tractor comes with with a choice of three transmission options and the series ranges from 120 to 160 horsepower. The MT455E, MT465E, MT475E, MT485E and MT495E are ideal for all-around use on livestock and row crop operations, Challenger company officials say.

"Customers who have previewed these tractors have been impressed with the range of operator conveniences available from tractors with this level of power, stability and lift capacity," says Eric Zimmerman, tactical marketing manager for AGCO, which operates the Challenger brand.

The mid-range MT400E tractors include a base weight of 15,432 pounds and maximum loader capacity of 5,032 pounds at the pivot pin. An optional, factory installed live third function enables up to three loader functions simultaneously to make loader work easier, particularly for dairy producers who are constantly unloading and loading feed, hay and other materials, Zimmerman says.

Challenger officials emphasize that the cab is ergonomically designed and efficient, in part due to the inclusion of a multi-function joystick for operation.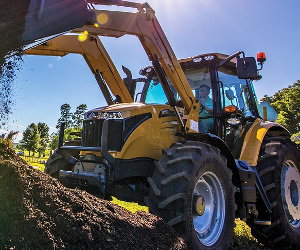 "Dairy producers are constantly unloading and loading feed, hay or other material," Zimmerman says. "With the multi-function joystick, loader work is much easier and more efficient because an operator can control the loader as well as move the tractor backward and forward with one hand."
The ability to have all controls at an operators' fingertips also benefits row-crop operators, Challenger officials say, due to the easy configuration and set up of headland management to flow control valves for the hydraulic system on the pillar panel and console.
The tractors, which were unveiled at the Husker Harvest Days 2016 in September, are well suited for roadside mowing and municipal use.
They are powered by a 4.9L AGCO Power 4-cylinder diesel engine that meets EPA Tier 4 Final emission standards. Engines breathe intercooled intake air provided by a new supercharger equipped with an electronic wastegate and are fed by a 29,000 psi fuel injection system.
A new Vistronic engine-cooling fan adjusts air flow through the radiator depending upon operating conditions, a feature that is designed to improve engine brake efficiency by 15 percent over previous models.
And the MT400E Series includes three transmission options, including:
The TechStar CVT, a continuously variable transmission with no clutch packs, capable of road speeds of 31 MPH
The AutoPower VI, a 24F/24R Semi-Powershift with four ranges and six powershifts per range and road speeds up to 31 MPH
The standard AutoPower IV, 16F/16R Semi-Powershift with four ranges and four powershifts per range with a max road speed up to 25 MPH
"The Power Management system operates automatically without operator involvement," Zimmerman says.
Also, well-designed pillar controls and a 50 percent larger, brightly-lit, multi-colored digital setup and information screen and analog center dash control display help the operator monitor system functions and manage the hydraulic system.
The MT400E Series offers improved visibility due to the compact emission control system, which allows for AGCO engineers to use a slimmer, offset exhaust track tucked behind the cab pillar. The series also offers an optional Fast Steering, which allows operators to adjust the steering ratio for more or fewer turns of the steering wheel so loading and headland turns are faster and easier.