Escorts Entering New Markets With 13 New Tractors
Andrew Tellijohn -

Indian tractor manufacturer Escorts Ltd. has launched 13 new tractors under its flagship Farmtrac, Powertrac and Euroline series as part of an announced plan to expand its global reach.

The company unveiled few specifics about the 13 new tractors, though it did say they will range from 12 horsepower to 110 horsepower and that they will be "aesthetically superior, fuel efficient and powerful" and be equipped with Common Rail Direct injection engines that are compliant with International emissions norms.

The company says the launch is aimed at addressing global competition in overseas markets.

The global expansion is part of Escorts' "Global Transformation Vision 2020" plan, a strategic approach unveiled earlier this month. Thirty seven of the company's partners from across the world joined together with Escorts officials as the announcement was made. The initiative includes the establishment of an International Business division that will cater solely to the needs of global customers.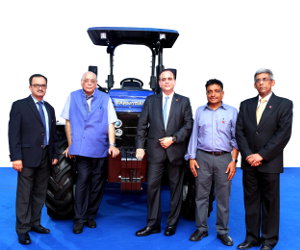 The company says it has a strong foothold across continents and plans to strengthen its leadership across North Africa, South Africa, America, Europe and the Association of Southeast Asian Nations banded together as the ASEAN region.
"Escorts has been a witness to the transforming agricultural ecosystem since seven decades and understands the ever evolving needs of the farmers worldwide," says Ravi Menon, CEO of Escorts Agri Machinery. "We are committed to taking India's best to the world and [the] launch of these new tractors are a manifestation of our belief in the 'Make in India' mission."