Challenger 1000 Series Tractors
Andrew Tellijohn -

Challenger's new 1000 Series row-crop tractors will be unveiled at shows this fall. The four tractors, ranging from 396 to 517 horsepower, are exclusive to North America. The tractors, AGCO officials say, are designed to deliver lower cost of ownership per acre, advanced connectivity and world-class performance. The tractors are expected to arrive at dealers in late December.

The 1000 Series tractors introduce to the industry the company's new Accu platform, which is "an engineering platform that enables and ties our technology together," says Josh Keeney, tactical marketing manager at Agco. "It leverages a lot of the history of German engineering and Challenger and what we've done with our Challenger products."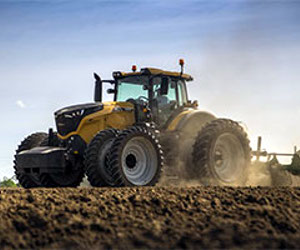 Using the Accu platform, the Challenger 1000 tractors are built to be smarter, more intuitive and efficient, Keeney told TractorData. They are equipped with intelligent four-wheel drive. The AccuDrive power train concept and an upgraded stepless CVT transmission are key to providing the tractors with power and flexibility.
And the series' tractors come equipped with the ISO-compliant AccuTerminal, which incorporates a suite of on-board technology, including a 10.4-inch touch screen that enables one-stop control of all tractor and implement functions.
The AccuTerminal fully integrates with AGCO's entire suite of Fuse Technologies and Fuse Connected Services, bringing a new level of precision and productivity to farming operations aimed at optimizing yields and saving on operating inputs and time.
The Challenger 1000 tractors can be used, company officials say, as a single solution for high horsepower needs ranging from planting and heavy tillage to row crop work and harvesting. The tractors are capable of on-road hauling up to 31 miles per hour.
"The needs of producers in North America continue to evolve as operations become larger and require more efficiency," Keeney says. "The Challenger 1000 series tractors bring an entirely new solution to the market. These tractors combine the power of a small-frame, articulated, 4-wheel drive with the flexibility and speed of a lighter-weight, fixed-frame row crop machine."
The new tractors, Keeney says, will be versatile enough that users could reduce the overall size of their fleet.
"This machine helps accelerate productivity and right-size a grower or professional producer's fleet today," he says. "Especially in these times, it's extremely important to have a right-sized fleet to be productive and have efficiency throughout the operation."
And they come with a level of comfort for the driver. Spacious cabs offer air-ride suspension, leather seats and intuitive, ergonomically placed controls.
The Challenger 1000 series will be unveiled at the Farm Progress Show in Boone, Iowa August 30 to September 1 and will be on display at Big Iron in West Fargo, North Dakota and at Husker Harvest Days in Grand Island, Nebraska.
| | |
| --- | --- |
| Model | Power |
| Challenger 1038 | 396 HP |
| Challenger 1042 | 435 HP |
| Challenger 1046 | 476 HP |
| Challenger 1050 | 517 HP |