Yanmar YT3 Compact Tractors
Andrew Tellijohn -

Yanmar's YT3 Series of compact tractors began arriving at dealers in the United States and Canada late last month. The tractors, company officials say, combine design ideas from high-performance sports cars and rugged tractors.

The YT347 has a 46.6 horsepower engine. The YT359's engine can hit 59.7 horsepower. They are the first tractors to offer a new, advanced Yanmar designed integrated hydraulic mechanical transmission (i-HMT), which the company says is designed to provide the ease-of-use and infinite speed choice traditional compact tractor hydrostatic transmissions but with mechanical efficiency, durability and heat-rejection performance that rivals what tractor owners get from a gear transmission.

"YT tractor owners will benefit from the fuel-conserving efficiency of the i-HMT, and its durability has been demonstrated in years of HMT use before we brought it to the North American market," Keith Wainwright, business unit manager for agricultural equipment at Yanmar. "If you have ever wished that your tractor drove more like your automatic transmission truck or car, you will love an i-HMT tractor. If you have ever asked why can't my tractor help me turn and work faster with less juggling of multiple levers, switches and buttons, you will find your solution in the YT3 Series tractors."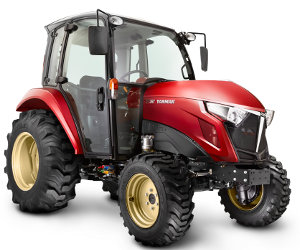 The tractor's diesel engines, he adds, have evolved from more than a century of compact diesel engine innovation. They comply with the most up-to-date requirements for protecting the environment and air quality, but retain the company's reputation for fuel efficiency.
The YT3 tractor's design allows for the use of vibration dampening engine mounts, beneficial for those spending long days out in their fields. The tractor's functions and operational status are displayed on an LCD monitor.
There is a standard skid-steer-style attachment system for loader buckets and attachments and Yanmar backhoes also work with YT3 tractors.
And they sport a richer red paint color and exterior design created by world-renown industrial designer Ken Okuyama, known for his work with companies like Maserati and Ferrari, the company says.
"These tractors are designed and built to provide decades of reliable service to people who love their land," says. "We're confident the new YT3 tractors provide stronger, faster tractor technology to make quick work of tough projects."