Massey 1700 Front Hitch and PTO
Andrew Tellijohn -

A new front linkage capabilities and front PTO have improved the versatility of Massey Ferguson's 1700 model compact tractors to do a wider range of tasks, the company announced.

The MF 1740 and MF 1747 tractors, ranging from 38 to 46 horsepower, are now capable of utilizing front mounted mowers, cultivators, brushes, snow blades and blowers.

The new front linkage has lift capacity of 1,200 kilograms, or roughly 2,650 pounds. And its full-frame design offers excellent integration with the tractor chassis, so maneuverability is not compromised, company officials say in a statement.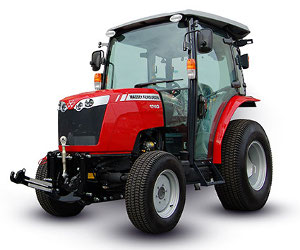 The front linkage lift is operated by a joystick fitted as standard on 1700 models. The same joystick also controls the flow to the front couplers on the linkage or the standard mid-mounted outlets.
The PTO features anti-clockwise rotation that delivers 2,000 rpm at 2600 engine rpm. Its six-spline shaft is compatible with a wide range of equipment and its Soft Start function, adjustable manually through the use of a dial next to the PTO engagement button, provides progressive engagement.
Front and rear PTO are simultaneous.
Buyers can specify for both the MF 1740 and MF 1747 a choice of either hydrostatic or mechanical transmissions. Both tractors also have rear, three-point linkage with maximum lift of 1,400 kg or nearly 3,100 pounds of maximum lift.