TAFE introduces Massey SMART tractors
Andrew Tellijohn -

TAFE (Tractors and Farm Equipment Ltd.) used the latest technology and input from farmers to create the all-new Massey Ferguson 'SMART' series of 30 to 60 horsepower tractor that will be unveiled in India soon.

The new line of tractors comes with a range of transmission options that company officials say will allow the machines to adapt to any application or usage. The tractors will come with either TAFE's signature 12 speed Rototrac transmission or a 16 speed SuperShuttle or 16 speed Comfimesh. They're equipped with a HAV Dual clutch, allowing for extensive, heavy duty applications such as use as a loader or dozer, or for haulage and harvesting.

"The new FST engines with the matching transmissions carry forward the Massey Ferguson legacy of high performance with super economy," the company says in a statement.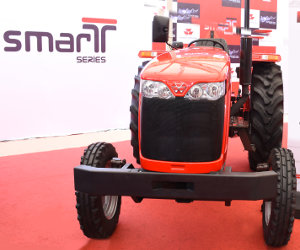 The company is introducing through the Massey Ferguson brand its SMART upgrades to the hydraulic system, aimed at boosting capacity through its COMBI-BOOST system, for quick lifting of heavy loads.
And the company's eSMART HYDRAULICS uses precision electro-hydraulics to deliver better yield, productivity and operating cost, company officials say.
The DTRB PTO boosts farm power and makes the tractors suitable for Powervator and all PTO applications. Flex-links, MDSS Brakes with Fricpad and iLead technologies, company officials say, all ensure "SMART" hitching and unhitching of equipment, braking enhancing fuel economy and brake life, and electronic leads, locates and locks of the tractor, all at the tip of a finger, even remotely.
The SMART tractors are equipped with both 2 Wheel Drive and 4 Wheel Drive variants across the range with G4-4WD and T5-2WD axle options. The range also includes tractors with a choice of manual and power steering with the Tonner axle, offering a larger wheel base for increased traction and stability, the company says.
TAFE's relationship with Massey Ferguson began in 1960 when TAFE became the manufacturer of Massey Ferguson tractors in India. TAFE continues to build Massey Ferguson tractors for the Indian market as well as supply tractors globally to AGCO.