Mahindra launches Yuvo series tractors
Andrew Tellijohn -

Mahindra & Mahindra has launched the new Yuvo tractor series in India. The Yuvo series includes five models, ranging in horsepower from 30 to 45, putting them in the company's existing range of tractors between 15 and 57 HP. The 265 DI is a 32 horsepower tractor, 275 DI is 35HP, 415 DI is 40HP, the 475 DI is 42HP and the 575 DI is 45 HP.

The Yuvo, introduced by Mahindra & Mahindra in 15 Indian states this month, can be used across 30 different farming applications and aims to raise the bar in farm technology in India.

The Yuvo is built on a completely new platform with a unique full constant-mesh gearbox. It's built to be extremely versatile, company officials say, in order to meet the diverse needs of farmers. The tractors can be used, for example, for land preparation, harvesting and post-harvesting requirements.

It's designed with a 12F x 3R gear box, an industry-first for this class of tractor in India, giving farmers multiple speed choices while using any implement. The gear system's ergonomic design and car like shift gear system is designed to make driving effortless.

It has lift capacity of 1500 kilograms, or more than 3,300 pounds. Company officials say the tractor went through more than 140,000 hours of lab and field testing across 12 states covering relevant applications.

"The Yuvo will cater to the evolving needs of the progressive farmer," says Dr. Pawan Goenka, the company's executive director.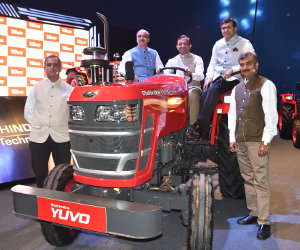 Its engine is designed to deliver consistent power with minimum RPM drop across all applications and soil conditions and it offers more back up torque so it can function even on hard soil. Its high lift capacity hydraulic systems help make it suitable for farming and hauling operations and the hydraulic systems are armed with a high tech control valve that is designed to provide superior control and maintain accurate implement depth.
The Yuvo tractors are developed at the company's research and development facility at Chennai. It has "set a new benchmark in pioneering new technology and providing huge value to customers," Goenka adds. "Yuvo demonstrates the commitment of Mahindra to enable farmers to improve their yield and productivity and rise in life."
It is being manufactured at Mahindra's newest plant at Zaharabad in the state of Telangana and is sold through more than 400 Mahindra outlets in 15 Indian states.