John Deere Updates Premium Lawn Tractors
Andrew Tellijohn -

New mower decks, improved instrument displays and two all-new models highlight updates to John Deere's Select X300 Series lawn tractors as well as the Signature X500 and X700 Series lawn and garden tractors.

Both tractors will offer the new Accel Deep mower deck, for cleaner, faster cut and added versatility. Its flat top design enables a clean flow of material through the deck and discharge area while maintaining speed for cutting and processing incoming grass.

It's available in 42-, 48- and 54-inch widths and it is compatible with the company's MulchControl kit that allows operators to switch between side-discharge and mulching at the flip of a lever.

The Signature and Select lines also will now include lift-up spindle covers that make servicing and cleaning easy and accessible.

"The new Accel Deep mower deck lets John Deere customers mow their lawn and get great results," says Kim Ridel, tactical manager for John Deere. "It's not how fast you mow, it's how well you mow fast."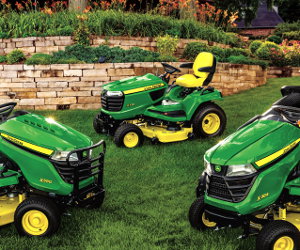 The models also have been updated with a new electronic instrument display that is backlit for night visibility. Bright caution and stop lights will indicate an engaged PTO, disengaged park brake or incorrect start sequence.
Two new models - the X330 and X394 - have been added to the Select Series line. The X330 provides more horsepower while maintaining a quality cut, due to the 42-inch Accel Deep deck and V-Twin cyclonic engine. The engine features a patented six-step cyclonic debris management system that prevents clippings from reaching the air filter, which means it needs cleaning less frequently. That model carries a suggested price of $2,999.
The X394 is the first in the X300 series to offer power lift, power steer and four-wheel steering all in one, which should provide homeowners with more comfort and convenience, company officials say. It's powered by a 22-horsepower Kawasaki FS engine and includes a 48-inch Accel Deep deck.
John Deere X700 Signature Series models also have been updated with premium features, such as an electronic display that is backlit for night visibility and snow blower use. The X700s are also now compatible with 48-inch Accel Deep decks, in addition to the 54- and 60-inch decks they were compatible with previously.