New Holland T5 Utility Tractors
Andrew Tellijohn -

New Holland has unveiled refurbishments made to its T5 tractor series, which is popular in the livestock, hay and utility markets. The line now meets Final Tier 4 engine emissions regulations and incorporates a collection of features aimed at boosting efficiency, productivity and comfort.

The new series is available in two models: the 107 horsepower T5.110 and the 117 horsepower T5.120, with respective maximum of 345 and 362 foot-pounds of torque at 1,500 rpm.

All are equipped with the 3.4-liter Common Rail F5G engine with ECOBlue Compact Hi-eSCR technology and low-rate exhaust gas recirculation, which company officials say results in outstanding efficiency and increased performance.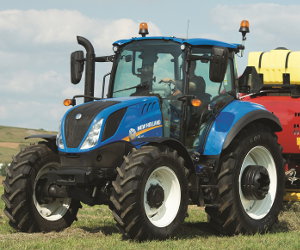 Rear three-point linkage capacity has been increased to 8,084 pounds and remote valve layout has been improved, as well. And the new, heavy-duty front axle option will accommodate 28 inch wheels.
"The upgrades … create a tractor that is more technologically advanced, better balanced and more comfortable in every aspect for the operator," says Gary Wojcuk, brand marketing manager for New Holland North America. "These are nimble, agile tractors that retain the compact dimensions of the previous series, and are therefore ideally suited to loader work and other handling tasks. Their small size does not mean compromise."
For those who choose to fit their T5 with a loader, the option of new mechanical or electrohydraulic joysticks with integrated transmission shifting aims to make operation easier and more efficient.
The new optional AutoShift function, which includes Auto Transport and Auto Field modes, improves the functionality of the standard Electro Command transmission. For road work, fuel consumption can be reduced by simplified gear changing into Auto Transport mode.