New Holland Unveils T4F and T4V Series
Andrew Tellijohn -

New Holland has launched its T4F and T4V tractors, with features that have been streamlined and optimized for narrow rows at orchards and vineyards. The T4F series, company officials say, continues to provide a stable, narrow platform that can handle tough applications with a minimum width of just over 5 feet, while the T4V tractor, measuring a minimum of 43 inches in width, is designed for extremely narrow rows measuring.

Both are powered by a 207-cubic-inch, four-cylinder engine built by Fiat Powertrain Technologies. The engines are Tier 4A emissions compliant, using a Cooled Exhaust Gas Recirculation system and a Diesel Particulate Filter. The common-rail, fuel-injected engine provides either 74, 84, 98 or 106 rated horsepower, depending on model, and deliver constant max power from 1,900 rpm up to 2,300 rpm, ensuring the best combination of power and efficiency.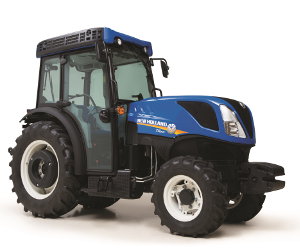 The T4F and T4V tractors come with a variety of transmission options to suit each specific operator's needs, the company says.
They also come standard with large rear hitch lift capacities – 4,045 pounds on the T4F and 4,400 pounds on the T4V. ROPS platform models come standard with the New Holland Lift-O-Matic feature that allows operators to raise and lower three-point mounted implements with the push of a button. Cab tractors come standard with Lift-O-Matic Plus, which offers the same benefits with an ergonomic lever. Cab models can be upgraded with an electronic draft control system for more precise rear hitch control.
The T4F series offers the option of a front three-point hitch with available front PTO to provide greater versatility while operating between rows.
The T4F series also comes with patented New Holland SuperSteer FWD axle, which articulates as the tractor turns, combining the standard 55-degree steering angle with 21 degrees of axle articulation. The T4V series comes with electro hydraulic FWD axles to provide enhanced traction when necessary. A 2WD front axle also is available for conditions where the additional traction is unnecessary.
The T4F and T4V models were unveiled earlier this month at both the World Ag Expo in Tulare, California and the National Farm Machinery Show in Louisville, Kentucky.