Kubota Aims To Raise Bar In Backhoe Segment
Andrew Tellijohn -

Kubota Tractor Corp. has introduced two new models, the L47 and the M62, in the tractor-loader-backhoe segment. The new backhoes join the B26 in rounding out the line. The new models replace the company's L39, L45 and M59 products.

"Kubota is taking its tractor-loader-backhoe line to new levels of performance and refinement," says Tim Boulds, construction equipment product operations manager. "Our newest generation of TLBs is more powerful, more efficient, and offers more features for comfort and convenience."

Both new TLBs offer single-lever hydraulic hookup for coupling and uncoupling of front implements, making them three-in-one options to buyers in rental, construction and landscaping sectors, Boulds says.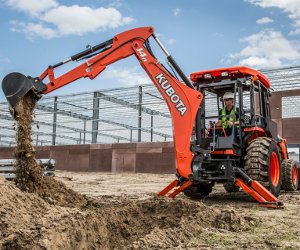 Both the L47 and M62 are supported by an integrated main frame for increased durability. They both have front loading and rear excavating capabilities and can utilize other implement equipment, such as pallet forks or box blades, using either a mechanical two-level quick coupler or an optional hydraulic quick coupler.
The backhoe's quick coupler is designed for easy switching of excavator buckets, and a four-point rear quick-mount system allows for easy detachment when the backhoe is not necessary.
The M62 also features a backhoe that digs deeper and reaches farther than the company's previous models. It has a 14-foot digging depth, up 17 percent over the previous generation's 12-foot max depth. It has a digging force of 6,572 pounds.
Both models are powered by turbocharged four-cylinder diesel engines that use a Common-Rail direct injection system. That feature, when coupled with Exhaust Gas Recirculation and Diesel Particulate Filters, enable Tier 4 Final emissions regulations compliance.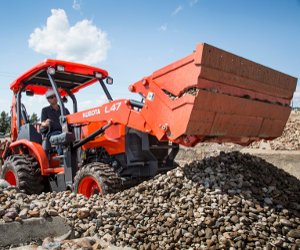 The L47's engines produce a rated 47.1 gross horsepower. The M62's produces a rated 63. Both come equipped with a 17.7-gallon fuel tank, up 48 percent from the fuel capacity in Kubota's previous generation of TLBs.
The new tractor-loader-backhoe models were introduced at the World of Concrete show in Las Vegas earlier this month and also will be available at Kubota dealerships this month.