Fendt 1000 Vario Series Tractors
Andrew Tellijohn -

AGCO Corporation and Fendt unveiled this week the Fendt 1000 Vario series of tractors at the National Farm Machinery Show in Louisville, Kentucky. The new 1000 Vario series offers four models: the 1038 Vario at 380 horsepower, the 1042 Vario at 420 horsepower, the 1046 Vario at 460 horsepower and the 1050 Vario at 500 horsepower.

AGCO/Fendt's intent with the new series was to develop a completely new standard tractor in a power range not yet occupied worldwide while also engineering the machines to be compact, agile, versatile and fuel-efficient.

It's the first standard tractor worldwide with low engine speed design Fendt iD and the Fendt VarioDrive drive technology. It can reach 60 kilometers per hour, or nearly 40 miles hour, on the road.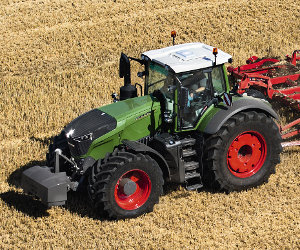 The company touts its new, compact MAN six-cylinder engine with a 12.4L displacement and VTG turbocharger, which aims to ensure dynamic performance and high torque in the low range speeds, as well as its latest VarioDrive transmission, which allows the front axle to be driven by a second, separate transmission output independent of the rear axle. The Vario transmission has been expanded, officials say, to become the VarioDrive drive train, which acts directly on both axles.
The 1000 series of tractors can be used for transport work or heavy PTO work, such as chopping wood. But company officials say its low weight of 14 tons makes it usable for work requiring low ground pressure, such as seeding. While developed for the international market, its 60-inch track also is appropriate for row crop markets, such as North America or Australia, according to company documents.
The 1000 Vario series has modular equipment options. It comes with or without rear linkage or rear PTO options, and its large number of hydraulic, hitch and linkage variants make it compatible with all conventional implements, including those of previous high-horsepower tractors.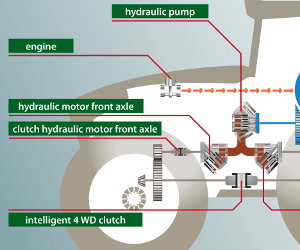 It was designed for the heaviest draft work, which previously has typically been reserved for articulated, tracked and system tractors.
A company spokeswoman said delivery to North American customers will start in the fourth quarter of this year.