Massey Ferguson 4700 series tractors coming to US
Andrew Tellijohn -

AGCO will introduce its new Massey Ferguson 4700 series of heavy-duty tractors in the United States at the National Farm Machinery Show in Louisville, Kentucky, in February.

The 4700 series initially will consist of three models: the 4708 80-horsepower, the 4709 90-horsepower and the 4710 100-horsepower tractors. Each will be powered by a 3.3-liter, 3-cylinder AGCO Power final tier 4 engine. And each can be purchased as a Classic option, which offers two range Syncro-Shuttle with mechanical shuttle lever, or a Deluxe option, which offers a Power-Shuttle, electro-hydraulic shuttle lever.

The 4708 and 4709 Classics will have 8x8 mechanical shuttle transmission, while the Deluxe version of those tractors and both the Classic and Deluxe versions of the 4710 will have 12x12 two range power shuttle transmissions.

"It's AGCO's largest investment in a product to date," says Warren Morris, tactical marketing manager for the company's under 100 horsepower tractors. "It's a huge deal for the company. We're certainly excited about the launch."

At 7,125 pounds, the 4700 series is built for pulling power and lift capability. The tractors come with premium radial tires, built exclusively for agricultural use, that provide stability and traction in the field, reduce soil compaction and improve fuel economy.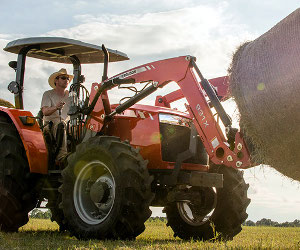 The 4700 series tractors were unveiled overseas in several markets and have sold about 3,000 units so far, Morris says. The more stringent emissions standards in the U.S. required some reworking of engines before they could be released here. There will be some other minor changes in the U.S. that Morris says will largely be unnoticeable, but officials from AGCO, which owns Massey Ferguson, see the 4700 series as a global tractor with significant capabilities for hay and dairy farming activities.
"There's been tremendous reception to these units," he says. "They've been tested, validated and demoed in all parts of the world."
They will be manufactured at the new Massey Ferguson plant in China and then sent to one of three facilities in the U.S. for some final light production before being shipped to dealers.
"This is just the start of a very broad product offering," says Morris, who added that 2015 was an active year for unveiling new Massey Ferguson products and 2016 is destined to be the same.
Later in 2016, AGCO will introduce to the U.S. market Massey Ferguson's 5700 and 6700 series tractors. Those machines will be similar but larger, heavier machines with more lift capacity and hydraulic flow and the capability to handle larger jobs.
"There are a lot of commonalities among the whole series from the 4700 to the 6700 from the styling perspective," he says. "There are a lot of carryover parts. The benefit of having a common platform, it helps from a dealer training perspective, a service parts availability, kit availability – the more you can communize among all three platforms the better of it is for not only the manufacturer, but also the end customer."
The 4700 models will sell at between $35,000 and $50,000. Currently they are available only without a cab. Cabbed versions of the tractors will be available around the fourth quarter, Morris says.
"This tractor will take us back to the Massey Ferguson of old so to speak," he says. "That means we will have a heavy duty chassis with an easy to use and durable machine that customers expect from a Massey Ferguson. So it takes us back to our roots but puts us on a new forward looking path. We are excited to be a part of it."