New Holland adds two models to T7 tractor series
Andrew Tellijohn -

New Holland has expanded its T7 tractor series with the addition of two new models: the T7.290 and the T7.315. The new offerings are designed to meet growing demand for increased power while also maintaining the versatility to perform numerous jobs. They contain the company's IntelliCruise tractor-baler automation and they're capable, company officials say, of performing a wide variety of field and hauling jobs, including primary and secondary cultivations, drilling, baling, mowing and haulage tasks.

"These new models are perfect for farming operations that need the power of a large-frame tractor with the versatility of a medium-frame unit," says Sean Lennon, head of tractors, telehandlers and PLM Product Management. "They can take on tasks that you would usually associate with a larger tractor while having the features to deliver great efficiency for PTO implements and transport work. They are ideal for farms and contractors whose tractors have to multi-task."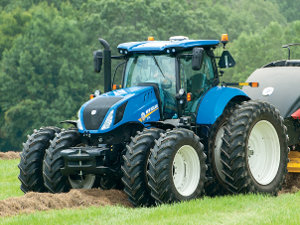 One of the company's fundamental design goals with the T7.290 and T7.315 models was improving vehicle efficiency. The engine features New Holland's ECOBlue High-Efficiency Selective Catalytic Reduction technology to meet modern emission standards. And an electronically controlled variable geometry turbocharger provides the torque required to operate at low engine speeds and react quickly to load changes.
Additionally, the new tractors aim to provide excellent maneuverability and traction. They can mount larger group 48 and 49 tires with a rear tire width of 36 inches, which company officials say results in improved traction and minimal soil compaction. Another benefit, New Holland says, is the ability to monitor tire pressure using the IntelliView IV display that allows operators to set the ideal pressure for the job they are performing and monitor the pressure on up to 16 tires. They'll receive a warning if pressure moves away from their pre-set values, enabling optimized traction and minimized soil compaction.