New Deere 5G Specialty Tractors
Andrew Tellijohn -

John Deere has expanded its specialty tractor portfolio with the addition of its new Series tractors that the company says are narrow and maneuverable enough to meet the needs of vineyard and orchard producers while also meeting Tier 4 Engine emissions requirements established by the U.S. Environmental Protection Agency.

The 5G Series Tractors come in two models: the 5GV and 5GN. They are available in 40.5 and 52 inches, which the company says will reduce the chance that crops in narrow rows will be damaged. The 5GN has a tighter turning radius than its predecessor 5EN Series, reducing effort, time and fuel consumption during headland turns.

Fuel tank capacity has been upgraded, with an option for a 7.5 gallon auxiliary tank on the 5GN.

The 5G Series Tractors are available in the following configurations:
| | | |
| --- | --- | --- |
| 5GN Model | 5GV Model | Engine HP |
| 5075GN | 5075GV | 75 |
| 5090GN | 5090GV | 90 |
| 5100GN | | 100 |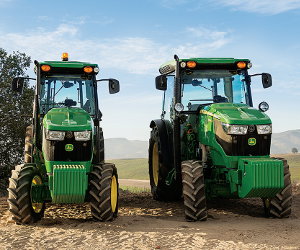 Additionally, the 5G Series tractors maintain strong engine performance, with the 90 and 100 horsepower models optionally equipped with Intelligent Power Management for additional power boost. "The 5G Series Tractors build on the success of the 5EN Series to offer customers more choices for their specialty applications," says Christopher Lammie, product manager for John Deere Augusta. "With two chassis widths for narrow (5GN) and vineyard (5GV) applications, the 5G Series Tractors bring John Deere utility tractor performance into specialty row applications."