New Holland Tier 4 Boomer Tractors
New Holland -

New Holland's Boomer Series compact tractors not only meet Tier 4B emissions standards, they also offer operators a host of improvements, including a roomier operator's platform, longer wheelbase, increased ground speeds, and more.

"With these Boomer models, the Tier 4B engine isn't the only thing that's new," says Dan Valen, Pro Work Tools Segment Leader. "These tractors are the ultimate power tool. They're built to make work easier, and now, they're better than ever. Not only are they a joy to operate, they help get the job done with more comfort and more efficiency."

Clean Tier 4B emissions-compliant engines
In line with New Holland's Tier 4 plan to provide the most efficient solution for each range of tractors, the Boomer Series is meeting Tier 4B emissions standards through engines which utilize a combination of Internal Exhaust Gas Recirculation (EGR) technology, Diesel Oxidation Catalyst (DOC), and Diesel Particulate Filter (DPF) to control emissions. The system is fully automatic: there is no need to add extra solutions or press buttons to activate.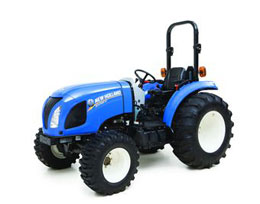 EGR is an internal system that reduces Nitrogen Oxides (NOx) formation during combustion by recirculating a controlled quantity of cooled exhaust gas into the air intake. DOC controls carbon monoxide and hydrocarbons. Any remaining particulate matter is eliminated by the diesel particulate filter (DPF) which "cleans" the gas before it leaves the exhaust.
"EGR/DOC/DPF is being used on New Holland's lower-horsepower tractors," says Valen. "This solution is perfect for products that have reduced cooling requirements, and the system can be neatly contained within the engine compartment so we can keep our compact tractors compact."
Reliable engines and efficient transmissions
The five models in the line range from 24 to 47 hp with quiet, fuel-efficient 3-cylinder engines in the Boomer 24, 33 and 37 models and 4-cylinder engines in the Boomer 41 and 47.
All are 4WD models, and all, except the two-range hydrostatic-only Boomer 24, are available with a three-range hydrostatic (HST) transmission or smooth shifting 12x12 or 16x16 synchronized shuttle shift (SSS) transmission.
All hydrostatic transmissions feature easy direction changes with their dual pedal design. Push one pedal to go forward, push the second pedal to go backward. No clutching or hand shifting is required. The convenience of cruise control is a standard feature for HST models.
The Boomer 24, 41 and 47 models boast faster grounds speeds - up to 11.3 mph (Boomer 24) and 16.0 mph (Boomer 41 and 47), respectively - allowing operators to speed through any task.
New and improved platform
The word "easy" defines Boomer tractors. The large, uncluttered deck is up to 6.5 inches wider than before, with plenty of room for easy entrance and exit. Switches and controls are conveniently located, color-coded and clearly marked so the operator can be confident of every move.
On the larger models, a new, more comfortable seat accommodates operators of every size and features an adjustable backrest. The seat is mounted on an inclined plane so optimum visibility is attained regardless of seat position. The steering wheel tilts to match the needs of every operator.
Both forward and rear visibility is excellent. The sloped hood makes it easy to see front-mounted attachments. The fuel tank has been relocated on the larger models so the operator has an unobstructed rear view to the drawbar, making attaching rear implements easier than ever.
The Boomer 41 and 47 now offer a larger R4 tire package (12x16.5 front/17.5L-24 rear) and a longer wheelbase for a smoother ride, more ground clearance and better handling.
All Boomer models have electro hydraulically engaged rear and mid (optional) PTOs. A full range of front- and rear-mounted implements and mid-mount mowers are available to make short work of any task.
Peace of mind
All Boomer tractors are backed by the industry-leading Boomer Guard Limited Warranty, which provides five years of worry-free operation, including two years of bumper-to-bumper coverage plus an extra three years of powertrain protection.
"With these new improvements and the Boomer Guard warranty, you won't find a better or smarter compact tractor package anywhere," says Valen.
Boomer Model
Engine
HP
Transmission
24
Mitsubishi / 3-cylinder
Tier 4
24
2-range hydrostatic
33
ISM / 3-cylinder
Tier 4
33
3-range hydrostatic
or
12x12 Mechanical Shuttle
37
ISM / 3-cylinder
Tier 4
37
3-range hydrostatic
or
12x12 Mechanical Shuttle
41
ISM / 4-cylinder
Tier 4
41
3-range hydrostatic
or
16x16 Mechanical Shuttle
47
ISM / 4-cylinder
Tier 4
47
3-range hydrostatic
or
16x16 Mechanical Shuttle