New Case IH Farmall C Tractors
Case IH -

From the feedlot to the pasture, the new Case IH Farmall C tractors reliably and cost-effectively deliver the power and performance utility tractor owners expect, all in a superior interior environment. Three new utility powerhouses meet the demand for rugged, yet comfortable and easy-to-operate, equipment to get day-to-day jobs done:
Farmall 85C with 75 PTO HP
Farmall 95C with 85 PTO HP
Farmall 105C with 95 PTO HP
"These versatile utility models are ready to meet any challenge on your ever- growing task list during longer work days, whether you are mixing feed or baling hay," says Greg Lucey, Case IH Farmall Tractors Marketing Manager. "These tractors also meet emissions standards with Tier 4A engines."
POWERFUL
Tough at heart with updated clean-diesel technology, the new Farmall C models use Tier 4A-compliant Case IH FPT 4-cylinder 3.4-L turbocharged and intercooled engines. Precise electronic metering of fuel delivered with electronic high-pressure common-rail fuel injection provides a more efficient combustion process. This means improved efficiency, extended engine life and improved cold-engine starting. But most importantly, it provides efficient power. "This unique fuel injection system provides greater fuel savings, all while maintaining high horsepower levels," says Lucey.
Glow plugs warm the engine prior to a cold-weather start, eliminating the need to use ether for more reliable starting in freezing temperatures.
Proven 12-speed forward, 12-speed reverse transmissions are designed with operator productivity in mind. The three Farmall C units use a synchronized, mechanical shuttle, wet- or dry-clutch transmission. If the application demands it, upgraded transmission options are available.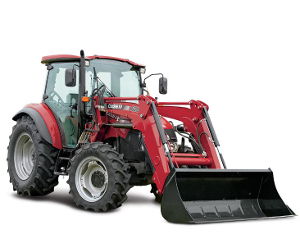 COMFORTABLE, PRODUCTIVE ENVIRONMENT
The newly designed Farmall cab goes a step above the rest to make the operator's day better and more productive with more user-friendly controls and features. Reworked internal control ergonomics provide best-in-class productivity and minimize operator fatigue:
Easy-to-read instrument cluster tilts with the steering column
Integrated position for loader joystick
Remote valves in a more accessible position
With the optional high-visibility roof panel, visibility to the loader and other attachments is unmatched among tractors in this class. The optional instructor seat comfortably allows two adults to be in the cab together. No other tractor provides such easy access to the driver's seat, which can be upgraded to air suspension with a 15-degree swivel to make repetitive tasks less monotonous.
The new climate control system revolutionizes in-cab comfort. The improved HVAC system, which is now in the flat-deck floor instead of in the roof, has 10 adjustable vents providing superior control during those long days that are hot, cold or dusty. For operators who prefer a wide-open platform with zero obstructions, the Farmall C models are also available in ROPs configurations.
VERSATILE
These new models provide versatile performance without sacrificing value. Owners can choose between standard factory-installed regular or heavy-duty loaders with either non-self-leveling or mechanical self-leveling 72- or 84-inch Skid Steer style buckets. A standard grille guard is included for added protection. The Farmall C is also available in ROPS/cab and 4WD/2WD configurations.
Tackle loads with the standard 12.5-gpm hydraulic pump. If more flow is needed, upgrade to 16.9 gpm. Up to two rear remotes offer quick connections for a variety of functions requiring hydraulics.
"The new Farmall C tractors are your powerful, tough, versatile and comfortable companions ready to handle any chore – all day long," says Lucey. "With 90 years of Farmall tradition under our belt, these tractors raise the bar of excellence and will keep you coming back for more."