New Case IH Magnum 225
CaseIH - September 01, 2009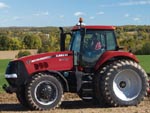 "If you're looking for a lot of power with a lighter overall footprint for a very responsive weight-to-power ratio, the new 225 with 195 PTO horsepower is the way to go," says John Bohnker, Case IH marketing manager for Magnum and Steiger tractors. "The 225 provides fuel efficiency, power and responsiveness ideal for row crop applications."
All Case IH mid-size Magnum tractors are equipped with standard Power Boost – for more power to handle steep grades or tough crop conditions – and the new Magnum 225 is no exception. According to Bohnker, "With the Case IH Magnum 225, you get additional Power Boost for when you're roading or for mobile hydraulics or PTO applications."
Bohnker adds that the Magnum 180, 190, 210 and the new 225 are roughly in the same horsepower and PTO range as the original Magnum 7100 series tractors. "These new Magnum tractors would make a good replacement for your old Magnum 7110, 7120, 7220 or 8920."
Other Magnum advantages
A quiet-running, fuel-efficient 6.75-liter Case IH engine – fully biodiesel compatible – powers the Magnum 180, 190, 210 and 225 tractors. And the sculpted front end still allows a best-in-class 16-foot (4.9-m) turning radius with typical row-crop tires.
These Magnum tractors also take the growing popularity of automatic guidance to the next level by offering Case IH AFS AccuGuide autoguidance as a complete factory-installed option. "Eliminate the need to steer with the AFS AccuGuide and you'll reduce fatigue, improve fieldwork accuracy and lower input costs," Bohnker says. "And an optional Case IH AFS Pro 600 color display can manage autoguidance, monitor key tractor functions and control implements, as well as move over to your combine at harvest time or sprayer for application jobs."
Spacious, comfortable cab
With the largest, quietest, most comfortable cab in its class, excellent visibility and the Case IH Multi-Control Armrest, Case IH tractor operators can focus more on the job and less on fatigue. "The new Magnum 225 is equipped with the same Surveyor cab found on the higher-horsepower Magnum models, and it's riding on the same 118-in. wheelbase," Bohnker continues. "That means a smooth, comfortable ride with ergonomic controls and 360-degree visibility."
In addition, a new suspended cab option cushions the operator from shock loads. And an optional Positive-Response Suspension system automatically adjusts the seat shock absorber up to 500 times per second, to keep the ride smooth over the roughest terrain.
"The power, comfort and innovation to help producers do more have been Magnum trademarks since their introduction in 1987," Bohnker notes. "The newest generation of Magnum CVT tractors continues that tradition."