John Deere introduces new specialty tractors for orchards, vineyards, and nurseries
Deere & Company Press Release -

To better meet the needs of orchards, vineyards, nurseries and greenhouse operations, John Deere introduces a new line of specialty tractors: the F-Series Orchard/Vineyard Tractors and the A-Series Nursery/Greenhouse Tractors. These machines are specifically designed to operate and maneuver in the confined work environments and field conditions of specialty crops and plants. The basic specifications of these machines are:
| | | | | | | |
| --- | --- | --- | --- | --- | --- | --- |
| Model | Cylinders | Engine Disp. | Engine HP | PTO HP | Rated RPM | Aspiration |
| 20A | 2 | .954 Liter | 21 | 17 | 3000 | Natural |
| 76F | 4 | 2.7 Liter | 76 | 66 | 2600 | Turbo |
| 85F | 4 | 2.7 Liter | 83 | 73 | 2600 | Turbo |
| 100F | 4 | 2.7 Liter | 96 | 83 | 2600 | Turbo |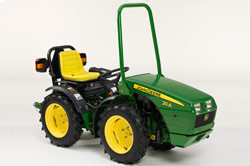 "This is the most significant lineup of new specialty tractors John Deere has introduced in a number of years," explains Owen Frederic, product marketing manager, John Deere Commercial Products. "For the orchard and vineyard market, we have three models: the 76F rated at 76 horsepower, the 85F rated at 83 horsepower, and the 100F rated at 96 engine horsepower. All tractors are powered by turbocharged VM Detroit Diesel engines."
These tractors feature a durable transmission with 24 forward and 16 reverse speeds. This easy-shifting transmission allows the operator to work at speeds from under 1 mph and up to 20 mph in transport – an excellent range for the many jobs required in orchards and vineyards.
"Maneuverability and braking is extremely important when operating these tractors," he emphasizes. "We have a no-spin front differential on the 85F and 100F Tractors for better traction and control. And, we've designed a six-disc oil-cooled rear braking system for longer life."
The three-point hitch has 5,500 pounds of lift capacity and an adjustable rate control for raising and lowering the hitch. The hydraulic system, with a 10 gpm flow rate, is powerful enough to operate the most demanding implements for orchard/vineyard applications.
"A low-profile cab is available on all F-Series models," says Frederic. "These tractors are designed with an excellent turning radius and a low center of gravity. The 76F tractor is only 53-inches wide and the 85F and 100F tractors are only 57- inches wide for exceptional maneuverability in orchards and specialty crop operations."
A two-year, 2000-hour warranty is also standard for the F-Series, with PowerGard™ protection plans available for extended coverage.
"The bottom line is that the F-Series tractors have tremendous versatility and maneuverability. They are designed to provide years of service to the operators and managers of orchards and vineyards," Frederic adds.
For the nursery and greenhouse markets, John Deere introduces the 20A Nursery/Greenhouse Tractor, which features a 21 horsepower, two-cylinder Lombardini air-cooled, diesel engine. Consistent with other John Deere tractors, the 20A will carry a two-year, 2,000-hour warranty.
"This articulated tractor is only 40 inches tall, 32 inches wide and 98 inches long, and has a 45-degree articulated design for tighter turning and better maneuverability in nurseries and greenhouses," says Frederic.
The transmission is designed with six forward and three reverse speeds and Mechanical Front Wheel Drive (MFWD) with traction control is standard equipment.
Other features include a front axle that oscillates 16 degrees for maximum traction on uneven ground, a flip-up hood for easy serviceability, a 540 PTO, and a three-point hitch with 1,100 pounds of lift capacity.