John Deere launches new 5025 series tractors
Deere & Company -

Complementing an already comprehensive lineup of utility tractors, John Deere introduces the new 5025 Series Tractors, ranging in engine horsepower from 56 to 91 hp. These new tractors are designed with timesaving solutions to bring more productivity to the farm, ranch or worksite operation. Here are the models and specifications:
| | | | | |
| --- | --- | --- | --- | --- |
| Model | Engine-hp | PTO-hp | Engine Disp. | Cylinders |
| 5225 | 56 | 45 | 3.0L | 5 |
| 5325 | 67 | 55 | 3.0L | 5 |
| 5425 | 81 | 65 | 4.5L | 4 |
| 5525 | 91 | 75 | 4.5L | 4 |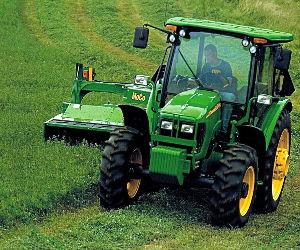 "These tractors are powered by John Deere Tier II PowerTech engines," says Mike Alvin, product manager, Augusta Tractor Works. "All engines are turbocharged for optimum performance to power through the toughest working conditions."
The 5025 Series Tractors feature transmission options for any work or farm application. The industry leading SyncShuttle transmission with nine forward speeds and three reverse speeds is standard equipment on all models. Optional PowrReverser transmissions are available with either 12 forward speeds and 12 reverse speeds or 24 forward and 24 reverse speeds.
Hydraulics are improved on the new tractors with an 18.5-gpm flow rate that allows for faster loader cycle times. There are six selective control valves (SCVs) available. These include a new triple deluxe rear SCV option featuring selectable detents, no detent and continuous detent with auto kick-out. Also, a new triple mid-SCV offers additional capabilities for loader applications.
Mechanical or electrohydraulic hitch options are available. A special load sense hitch has priority over SCVs to allow simultaneous operation of hitch and SCV.
"Operator comfort was a big priority when designing these tractors," explains Alvin. "We've got a digital readout for ground speed on the dashboard display, and all controls are color-coded and easy to operate.
"The left-hand electrohydraulic reverser, mounted on the steering column, allows for fingertip directional control. And, for ease of operation, a new four-wheel-drive engage-on-the-go push button and indicator light is located on the dash instrument panel."
The new 5025 Series Tractors have many new features normally found on higher horsepower tractors and will get more done in less time while improving the overall comfort of the operator. For more information, contact your local John Deere dealer or visit www.JohnDeereAg.com.