Economical 6015 tractors introduced by John Deere
Deere & Company -

Looking for a versatile, economical tractor that delivers excellent performance and provides comfort and efficiency for the operator? John Deere's new 6015 Series Tractors may be the ideal solution for your operation.

Manufactured in Mannheim, Germany there are four new models of the 6015 Series:
| | | | | |
| --- | --- | --- | --- | --- |
| Model | PTO-hp | Engine Displacement | Cylinders | Turbo |
| 6215 | 72 | 4.5L (276 cu.in.) | 4 | Yes |
| 6415 | 85 | 4.5L (276 cu.in.) | 4 | Yes |
| 6615 | 95 | 6.8L (414 cu.in.) | 6 | Yes |
| 6715 | 105 | 6.8L (414 cu.in.) | 6 | Yes |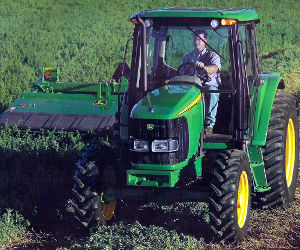 "The new 6015 tractors feature a full-frame design, a new body styling and a sloping front hood that permits greater forward visibility and easy engine access," says Ron Schwertner, Division Manager, Waterloo Tractor Works. "All models are available with cab or open station configurations; and high clearance models are available on the three largest models."
Lighting changes include adjustable round lamps repositioned to the cab roof for better nighttime visibility. Sloping fenders permit rapid water and mud runoff and allow for easier cleaning.
All tractors are equipped with John Deere PowerTech Engines, 4.5L on the 6215 and 6415 tractors, and 6.8L on the 6615 and 6715 Tractors; all are turbocharged.
"The engines are designed to meet federal emissions requirements, and feature a dual-temperature cooling circuit," explains Schwertner. "These high performance engines require additional cooling and the radiator has been divided into a high and low temperature cooling circuit, which allows coolant flow at two different rates. Although there are two circuits, there is still a single system with one fill point and overflow reservoir."
Airflow to the engine has also been increased. A redesigned viscous fan moves 7 percent more air than on the older models. A new air filter system with precleaner has been added. The system delivers 25 percent more filtration performance in a compact, efficient size.
Depending on the operator's needs, there are three transmissions offered on the 6015 tractors – the standard SyncroPlus-12F/4R, the optional SyncroPlus-16F/16R with left-hand power reverser, and the optional PowrQuad-16F/16R with left-hand reverser. The PowrQuad transmission is an option on the 6615 and 6715 tractors only.
A John Deere Comfort Vantage cab is featured on the 6015 tractors. These spacious cabs are ergonomically designed to offer cost-effective protection from the elements. Two doors are standard equipment and offer easy entry and exit from the cab. All controls are located on the right-hand side and overhead air conditioning is standard. A two-piece window with belt-line assures good visibility, enhancing operator comfort and productivity.
"Open station models are also available and feature a non-cluttered, flat platform with console mounted controls, and open-center hydraulics," says Schwertner. "These new tractors are ideal for dairy and livestock producers, who seek an open station tractor with solid features and performance."
The 6015 tractors can be equipped with a two-wheel drive front axle with new single integral cylinder (standard equipment), or the traditional Mechanical Front Wheel Drive (MFWD) with limited slip differential.
With all the new features, horsepower selections, and economical performance, producers will appreciate the new style and design of the 6015 Series Tractors. For more information, contact your local John Deere Dealer.