LS Mtron XP Series Tractors
LS -

LS Mtron, LS Group's industrial machinery and advanced parts company, announced the roll out of its XP Series, a line of premium eco-friendly tractors boasting highest-in-class fuel efficiency, versatility and user convenience.

The XP Series is equipped with an advanced eco-friendly Tier 4 engine. The engine supplied by Fiat Powertrain Technologies (FPT) was selected after being proven for its quality and performance in Europe, a home for such eco-friendly tractors. Fuel efficiency has been improved by 10% compared to the existing Tier 3 engine, and is outstanding compared to its competitors, reinforcing its economic feasibility.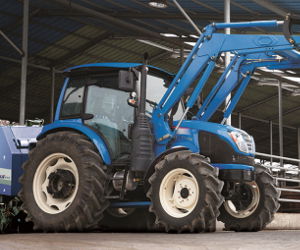 The XP Series offers high performance not only for working in paddies and fields but also stables. XP tractors boast the tightest turning radius in their class, enabling quick and easy maneuverability even in narrow spaces. They are equipped with a main change gear, sub-change gear, high/low shift, and ultra-slow speed crawling capabilities such as forward 40 or backward 40 gears, enabling the operator to precisely select the work speed needed. Ground clearance is a rather high 503 mm, so they do not sink in rice paddies while cultivating subsoil nor do they damage ridges in the field. The tractors have three pairs of front hydraulic valves enabling easy baling using tongs. They also have a pair of external auxiliary hydraulic cylinders which give them the power to operate heavy lift machinery.
Importantly, the XP Series also offers a spacious ergonomically designed interior to enhance operator comfort and efficiency. The hood slopes downward while the front glass is arched to dramatically improve the front-back and vertical fields of view. The premium seats are mounted on an air suspension to provide a comfortable ride and can rotate 20 degrees to reduce fatigue. In addition, it is equipped with all the features expected of a premium tractor, such as a fully digital dashboard that displays the current state of all the systems of the machinery, an audio system, heating and air conditioning systems, rear camera, etc.
A choice of three engines is available (86, 96 and 102 hp) in the XP Series. Models are now available for purchase at all LS Mtron sales agencies nationwide.
Mr Gwang-Won Lee, CEO of LS Mtron said, "The XP Series is a premium tractor featuring LS Mtron's technology that matches those of global agricultural farming machinery. It was developed as a result of our Open Innovation policy whereby we cooperate with globally leading engineering companies such as AVL for transmissions. LS Mtron will contribute to providing pleasant working environments and enhanced productivity with the XP Series. We will support our farmers economically and contribute to the vitalization of the rural economy."