New Kubota MX5800 Tractor
Kubota -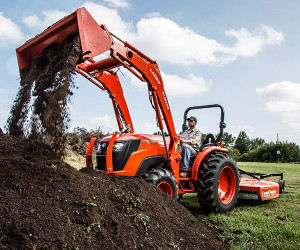 Kubota Tractor Corporation introduces its latest model to the MX-Series utility agricultural tractor line with the MX5800, a four-wheel-drive hydrostatic model delivering 61.4 gross horsepower. With environmentally-friendly performance meeting Tier 4 Final emissions standards, increased engine power, and ergonomic features for operator comfort, the new MX5800 is the leader of the MX-Series pack.
"Available this month at dealerships nationwide, Kubota's MX5800 diesel utility tractor is the largest crossover hydrostatic tractor on the market, with one of the smoothest running 4-cylinder diesel engines in the industry," said Paul Williams, senior product manager for Kubota. "In addition to its strength, the MX5800 has plenty of comfort features, like a wide, comfortable seat, a wide deck with ample leg room, and the digital LCD dash panel to make operations a breeze. The MX5800 is really everything an operator could want in a utility tractor, and more."
More Power and Smooth Operations
The Kubota diesel engine in the new MX5800 provides a smooth transfer of power, low noise and quick starts. A Common Rail System (CRS) and Diesel Particulate Filter (DPF) deliver cleaner emissions that comply with EPA Tier 4 Final emission regulations, and electronic common rail direct fuel injection maximizes fuel economy. The MX5800 features hydraulic servo HST systems that increase pedal responsiveness and shifting ease regardless of load size, reducing vibration and fatigue to improve tractor performance and operator comfort.
Smooth handling and maneuverability on the new model make traveling between jobs easier than ever. The MX5800 comes equipped with easy-turn hydrostatic power steering, and a touch-and-turn electric PTO switch is positioned to the right side of the console for convenient operation with a push and turn start.
All-Day Comfort and Convenient Controls
The suspension seat on the MX5800 helps reduce operator fatigue after a long day's work. The flat deck enables safe and easy mounting and dismounting, with 30 inches of space between fenders, giving the operator more room to work in comfort. In addition, the easy-to-operate hanging pedals optimize leg room. Additional comfort features include a convenient cup holder, behind-the-seat toolbox, and newly designed LCD dash panel with large, easy-to-read gauges. The MX5800 also features a larger fuel tank with 13.5-gallon capacity for longer, more productive operation, with fewer stops to fill up.
The brilliantly designed one-piece slanted hood of the MX5800 increases the operator's field of view and is made of steel for robust strength. With hydraulic dampers for easier access, the fully-opening hood makes routine maintenance checks quick and efficient.
Performance-Matched Front Loader and Backhoe
Assembled in Georgia, Kubota's performance-matched LA1065 front loader and BH92 backhoe were designed to ensure precise operation and improved productivity for the MX-Series. The LA1065 front loader delivers impressive performance with a maximum lift height at pivot pin of 111.2 inches, and lift capacity at pivot pin of 2,275 pounds. The series valve provides dual function ability for simultaneous operation of the lift and bucket circuit. The regenerative dump circuit provides fast bucket dump times. A two-lever quick coupler is now standard equipment for easy attaching and detaching of implements such as buckets and bale spears. Hydraulic tubes are enclosed within the rounded boom for protection and a clean look.
The BH92 backhoe delivers more power and greater capacity with 9.1 feet of digging depth. Attaching and detaching is simple and, with the hoses routed through the backhoe arm operation, appearance is clean and offers better protection. The flat deck delivers optimal leg room while the optional hydraulic thumb offers greater versatility for working the backhoe.
Attaching and working with large implements is simplified with the powerful Category I and II 3-point hitch, as well as the telescoping link ends and stabilizers that come standard on the MX5800.