Massey Ferguson 4708 and 4709 Tractors
AGCO -

Massey Ferguson is introducing the first new tractors in its new Global Series. The MF 4708 and MF 4709 are the first new models in a ground-breaking new 60hp to 130hp global family. These are the initial tractors in a new Global Series that will eventually offer three ranges, four different transmissions and be available in footstep, semi-platform and cab versions.

"It's taken the best brains in Massey Ferguson to design and build this brand new range of workhorse tractors," says Campbell Scott, Director Sales Engineering and Brand Development. "These state-of-the-art tractors are the result of a $350 million investment in a completely new, clean sheet design. They are developed specifically to provide utterly dependable operation in a wide range of applications to meet the needs of a diverse range of farmers world-wide.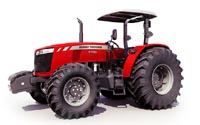 "Unlike the majority of other tractors in the sector, which are based on earlier designs and components, the Massey Ferguson Global Series has been designed and built in the 21st Century and is purpose-built for modern applications. While using the very latest, advanced engineering and manufacturing tools and techniques, they still retain our traditional straightforward operation, dependability and value for money," he says " and in addition, we have sought where possible to use existing design technology and components from our hugely successful MF 5600 series, which are not only specially developed for the modern era, they allow us to provide local parts and service most efficiently across our whole range of tractors, wherever they are in the world"
More than 90% of the parts and components in the Global Series are entirely new -designed and engineered specifically for the tractors. Combined laboratory and field testing has reached over 36,000 hours and, reflecting the global nature of the new machines, prototypes have been tested in brutal conditions from Arizona in the USA to Lusaka in Zambia. The first models will make their public debut at Massey Ferguson's Vision Of The Future event. The 82hp, MF 4708 will then go on sale in Africa and the Middle East, while the 95hp MF 4709 will be launched for Turkey, and the rest of Europe later in the year.
MF 4708 and MF 4709 features:
MF 4708, 82hp 4 cylinder model for Africa and Middle East markets
MF 4709, 95hp, Euro-compliant 3 cylinder model for Turkey and rest of Europe
MF 4709 powered by an AGCO POWER 3.3 litre, three cylinder turbocharged Euro-compliant engine
MF 4708 equipped with an AGCO POWER 4.4 litre, four cylinder turbocharged, Tier 2 mechanical fuel injected unit for African and Middle-Eastern applications. Both engines are renowned for their reliability and for delivering high torque and fuel efficiency.
Completely new mechanical gearbox combines modern design and engineering with straightforward operation. Developed by Massey Ferguson engineers in Beauvais, France they offer 8F/8R in the MF 4708 and 12F/12R in the MF 4709. Both are equipped with mechanical reverse shuttle
Robust rear axle based on existing, proven design from the very latest MF 5600 Series. The modern, heavy duty, structural casting design contains new inboard reduction units and oil-immersed brakes
Choice of purpose-built 2WD or 4WD front axles with hydrostatic steering, offering excellent manoeuvrability and enhanced traction
Efficient, modern open-centre high pressure hydraulic system employs a tandem pump to supply the pressure and flow required to control and power the latest implements
Responsive electronic hitch control combines straightforward lever operation with advanced electronic control and reliability of the most modern systems. Maximum 3,000kg rear linkage lift capacity helps handle equipment with ease
540rpm speed Independent PTO, with easy operation by a three-position rocker switch for optimum reliability
The initial MF 4708 and MF 4709 models are available with comfortable, footstep or semi-platform operator environments with logical and easy to use controls. A fully approved ROPS frame and optional sun canopy are fitted to protect the operator.
"While using the very latest, advanced engineering and manufacturing tools and techniques, they still retain our traditional straightforward operation, dependability and value for money"