New Holland T9 4WD Tractors
New Holland - August 31, 2010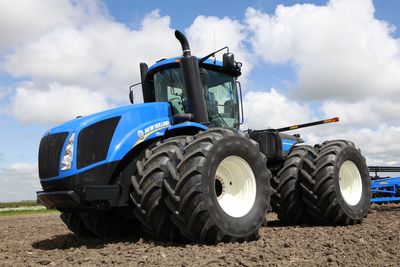 New Holland's T9 Series 4WD tractors meet the power and productivity needs of both row crop and broad acres producers with a choice of a standard or wide frame, industry-leading hydraulics, the largest cab in the industry and the industry's first cab suspension system.
"Our customers told us they wanted a row crop-ready articulated tractor with a slim engine hood for improved forward visibility and inboard planetary drive axles for narrow wheel width settings. For broad acre work, our customers told us they needed greater performance," says Wade Prouse, New Holland Tractor Marketing Manager. "With the choices available in the T9 Series, they get both."
The new T9 Series is available in two frame sizes. The standard frame T9.390, T9.450, T9.505 and T9.560 models are well-suited for row-crop work. They pack 350 to 500 horsepower in a 36-inch-wide frame. The wide frame T9.615 and T9.670 models, with rated power of 535 and 600 horsepower, feature a new, well-balanced chassis that delivers more power to the ground for improved productivity in broad acre applications.
All T9 Series tractors are powered by Tier IVa Cursor engines developed and produced by Fiat Powertrain Technologies. (9 liter engines in T9.390; 13 liter engines in T9.450, T9.505, T9.560, T9.615 and T9.670.). All models feature the efficiency of New Holland Ground Speed Management, which intuitively manages both engine load and transmission speeds to optimize performance and fuel economy.
The Comfort Ride cab suspension, an industry first, is an optional feature on all T9 Series tractors. All four corners of the cab are suspended on spring and damper units with a sophisticated anti-sway system for a smooth, stable, more comfortable ride, irrespective of the terrain.
T9 Series tractors feature the multiple award-winning SideWinder II armrest console. This patented armrest electronically glides forward or back to adjust to the perfect position for every operator. The CommandGrip multi-function controller, located at the front of the armrest, provides fingertip access to the most frequently used controls. Additionally, the IntelliView III touch-screen display provides information at a glance and quick access and control of key functions.
T9 Series tractors are available with a standard 42 gallon per minute (gpm) or high-flow 57-gpm hydraulic pump:Yet, even greater hydraulic flow may be obtained for either version by adding the optional 56-gpm MegaFlow pump for an industry-leading total of up to 113 gpm for high-flow implements.