New Boomer Compact Tractors
New Holland - August 27, 2010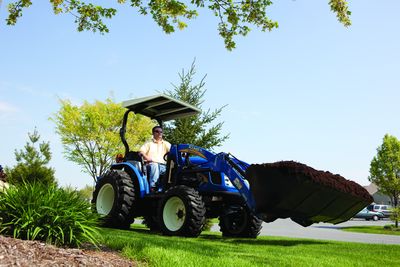 New Holland's all-new Boomer compact tractors feature the maneuverability and operating ease needed to make quick work of tough jobs. Ideal for rural lifestylers, landscapers, farmers, golf courses and municipalities alike, these 28-47 hp compact tractors provide reliable performance in a compact package.
"Our new Boomer compact tractors focus on three key factors: visibility, ease of use and serviceability," says Rural Lifestyle Marketing Manager Ken Hough. "They have the durability, comfort, and productivity features customers tell us they want in a compact tractor, at a very competitive price."
New Holland Boomer tractors are designed with a sloped hood for outstanding visibility. Visibility is further enhanced by an industry-leading lighting package that illuminates both the front and side for safer, more productive work when operating in the low light conditions encountered early or late in the day.
The new Boomers are powered by quiet, durable, fuel-efficient four-cylinder engines that provide plenty of smooth power for loading, digging, mowing, blowing snow and much more. A dual-pump, high-capacity hydraulic system with an electro-hydraulic engaged independent PTO ensures fast implement and steering response. In addition to the rear PTO, a mid PTO for mid-mount mowers is also available.
The new Boomers are available with a choice of a smooth, synchronized gear transmission or a three-range hydrostatic transmission with two-pedal actuation. The smaller Boomer 30 and 35 models, 28 hp and 38 hp respectively, are available with a12 x12 synchronized shuttle shift (SSS) transmission while the larger Boomer 40 and 50 models, 41 hp and 47 hp respectively, are equipped with a 16 x16 SSS transmission. The synchronized shuttle shift transmission (SSS) make change of direction or speed easy because there's no need to come to a complete stop when shuttling or changing gears, a real plus for fast, efficient front-end loader work.
Boomer tractors are easy to operate with, labeled controls that are ergonomically positioned. The flat deck has plenty of legroom, as well as a comfortable, adjustable high-back seat and tilt steering column. For ease of maintenance, the one-piece hood lifts on a gas strut for quick access to routine maintenance areas.