How to Rebuild and Restore Farm Tractor Engines
Hastings Little Log House Antique Power Show
TractorData.com - July 27, 2009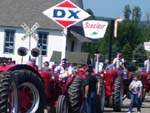 The Antique Power Show was this last weekend, July 24 to 26, at the Little Log House Pioneer Village in Hastings, Minnesota. A storm on Friday cancelled the parade, caused havoc with the vendors' tents, and created some muddy parking problems. Fortunately, much better weather appeared on Saturday and Sunday, resulting in a great show. Some hard work by the staff (plus a large Caterpillar) made the water-logged track ready for the tractor pull on Saturday evening.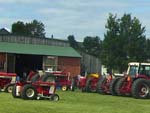 International Harvester was featured with a great showing of classic IH, Farmall, and Cub Cadet tractors. In addition, new CaseIH tractors were on display courtesy of Minnesota Ag Group. Several classic International trucks were at the show.
A large assortment of other tractors, classic cars, antique military vehicles, and construction equipment were also present. The Little Log House Pioneer Village is an amazing show ground, with gardens, old buildings, and bridge passing over a waterfall.