Key Dollar Cab earns top new product award for orchard cab
Key Dollar Cab LLC - Febuary 13, 2008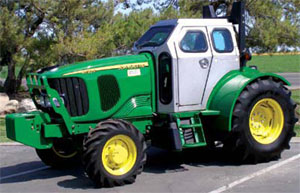 Key Dollar Cab has earned a Top Ten New Products award at the 2008 World Ago Expo in Tulare, Calirofnia. Sleek and sturdy as an armored military vehicle, Key Dollar Cab's newest Low Profile Orchard Cab is custom designed for peak efficiency, economy, and driver comfort during spraying operations in almonds.
The aftermarket cab, available exclusively through John Deere Dealers in California, is engineered to maintain a minimal profile on the hefty John Deere 6020L Series tractor popular on large-acreage farms.
It is a permanently mounted, 100-percent laser-cut, stainless steel structure having one-half-inch thick, tempered glass windows mounted in aluminum frames with no exposed seals.
Jason Dohrmann, manager of Key Dollar Cab at Portland, Ore., says the cab was designed using the latest 3-D modeling software and is the result of their many years of experience in building spray cabs for use in orchards and vineyards in Oregon, Washington and California.
Backed by extensive, in-the-field research and consultation with John Deere dealers and almond growers, it is the response to requests for a better design for use under California almond orchard conditions.
The aircraft-like cab, only 81 inches high and 29 inches wide at the top, says Dohrmann, "meets the requirements for a sleek and robust design, especially for a tractor the size of this John Deere model where the cab is closer to larger branches."
"Unlike a traditional cab, the sloped windshield of our cab slips past trees without breaking off branches and losing valuable crop, which amounts to a considerable savings."
The stainless steel construction gives the cab superior rigidity and low vibration, as well as protection from corrosive spray solutions. The thicker windows complete the enclosure and withstand the breakage by large branches that occurs frequently to conventional spray cab designs.
The cab is all-weather sealed, with quiet-running, highly efficient air conditioning. "Actually, the cab consists of two separate air systems," Dohrmann explains. "One system pulls in outside air through charcoal filters and pressurizes it for the cab. The second system does the cooling and runs solely off 100 percent, recirculated cab air, just like an automobile system."
This, he adds, is one of the cab's chief advantages over alternative designs, particularly for California's hot and dusty conditions, and it is a big plus for employee comfort and retention.
Some growers are using the JD 6020L models fitted with the cab year-round for other operations because the heat/air-conditioning offers greater operator comfort, thus enabling the drivers to work longer hours.
Although the cab has been a from-the-ground-up project for almonds, Dohrmann says its versatility lends itself to use in other tree fruit and nut crops as well.
The prototype of the cab was completed just in time for showing at the 2007 World Ag Expo, and 15 production models were subsequently installed and used successfully in the 2007 season.
According to Dohrmann, the low-profile 6020L cab is a significant addition to Key Dollar Cab's stable of removable, polyethylene orchard cabs which are tailored for a variety of brands and models of tractors. More than 1,800 of these removable cabs have been built for growers up and down the west coast since the company was formed in 1982.