The Big Book of Farm Tractors
AGCO introduces Fendt TRISIX tractor at Agritechnica
AGCO Press Release - November 12, 2007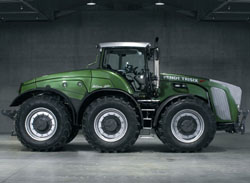 AGCO Corporation (NYSE: AG), a worldwide manufacturer and distributor of agricultural equipment, introduced the Fendt TRISIX Vario, the world's most innovative tractor, this week at Agritechnica, the world's largest agricultural equipment exhibition. AGCO unveiled its futuristic, high performance, triple axle tractor at this internationally renowned engineering exhibition in Hannover, Germany. Unlike any tractor on the market today, the technologically sophisticated, 540 hp concept showcases AGCO on the cutting edge of agricultural innovation.
"Introducing the TRISIX Vario at Agritechnica is only appropriate since German farmers have been the first to see and adopt other Fendt innovations considered futuristic in their own day," says Martin Richenhagen, Chairman, President and CEO of AGCO Corporation. "While the TRISIX Vario represents a new approach to tractor design, Agritechnica attendees will recognize familiar features like the continuously variable transmission, independent suspension and tractor management system. These features were first introduced by Fendt and have since been adopted throughout the industry. Fendt has earned an unsurpassed reputation for innovative engineering, and the TRISIX continues that tradition."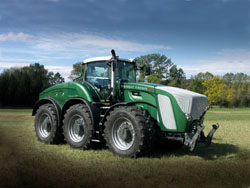 The powerful tractor is uniquely designed for the needs of modern agriculture. It measures nearly 25 ft. long, but only 9 ft. wide and it can safely travel between fields without restriction. With six drive wheels and two continuously variable transmissions, the TRISIX Vario can handle a wide range of applications on an equally wide range of field conditions. Plus, the three pairs of in-line wheels offer improved stability on slopes.
The combination of six wheels with independent suspension on three axles and infinitely variable speeds with the two CVT transmissions ensures never-before-experienced ride comfort and exceptional fuel efficiency. That same combination, along with the high performance braking system, also makes the TRISIX Vario the only tractor in excess of 300 hp capable of road speeds approaching 40 mph or more while transporting high payloads.